The 10 Commandments of Luxury Cruising on Silversea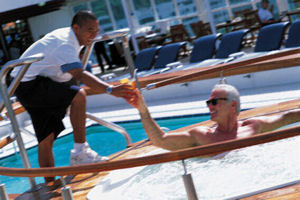 Endless cocktails, wine and dessert. Private in-suite dinners. Couples
massages. Pillow menus and plush bedding. Ballroom dancing classes.
These are just some of the posh perks that Silversea Cruises
offers. Most upscale cruise lines have always offered unforgettable
experiences – for example, you can often wine and dine to your heart's
content in fabulous restaurants, and, unlike real life, never receive
the check, never mind pay a gratuity. But nowadays, the upscale
envelope has been pushed. Fantasy, thrills-of-a-lifetime, upper-crust
adventures and red-carpet treatment await today's travelers on
Silversea. Here are the Ten Commandments to make the most of your trip
on Silversea Cruises.

To tempt you even more – bear this in mind. Silversea Cruises has won
awards too numerous to mention including, in 2007, the "Five Star
Diamond Award" from the American Academy of Hospitality Sciences and
the "Number One" small-ship line in the Reader's Choice choice survey
of Britain's Conde Nast Traveller magazine. We recently sailed on a
superb voyage on Silversea's Silver Shadow from London/Greenwich, U.K.,
to Lisbon, Portugal, taking in many ports of call in France. It was a
tailor-made luxury trip of a lifetime – and we know luxury when we see
it!

Follow these instructions to make a Bon Voyage even better!

1) Thou shalt dine a deux.

A cruise is all about spending private time together. Request a
table-for-two in the main dining room or dine inside, next to your
verandah, where the sea and sky surround you. For more intimacy, dine
aboard in a jewel-box restaurant such as Silversea's Le Champagne,
which only requires a $30pp charge for a superb gastronomic dinner (ask
the concierge for menus; the daily newsletter also has information).
This specialty bistro offers gourmet meals by candlelight, and features
fine wine upgrades that usually cost extra. Don't forget to kiss and
canoodle between courses, and remember -- on a cruise ship, desserts
are supposed to be sinful. We also loved the ice cream social, offering
just-made cones and creamy concoctions, including sherbets and nonfat
yogurts that would intimidate Ben and Jerry. Share a sundae and you're
sure to feel – dare I say it? – like you're on your first date. Now
that's romance!

2) Thou shalt spa.

Book the ultimate pampering through Silversea's on-board spa: a
sensuous couples massage in the spa itself or, for more convenience, in
your suite. (The experience is so sexy, you just might enjoy pillow
talk afterwards.) Because everyone loves rubdowns with a velvet glove,
spa appointments usually fill up quickly. Schedule your treatments
online, before you board, to avoid disappointment.

3) Thou shalt be lazy.

True luxury cruises are designed so you don't lift a finger. Ask your
cabin attendant or if you're lucky – your butler -- to unpack your
luggage, stock your refrigerator -- even hang your "Do Not Disturb"
sign. It's one of those rare times when you should be sybaritic. So go
ahead -- sleep late, relax by the pool, and order room service at 3AM.
Every day is the proverbial "seventh day" when you should rest,
together.

4) Thou shalt also be active.

Silversea offers oceans of exercise options: an outdoor jogging path,
indoor gym, Pilates instruction, ballroom-dancing lessons, slow and
disco dancing in romantically-lit lounges, strolls on moonlit decks --
everything short of walking the plank.

5) Thou shalt enjoy your suite.

Book a spacious luxury cabin, or even the penthouse suite. You'll find
a couch, dining area, small refrigerator, desk, TV/DVD/CD player,
binoculars (for romantic star-gazing and moon-watching on your private
deck), your choice of three luxury bath amenities (Neutrogena, Bulgari
and Acqua di Parma), fresh floral bouquets, fruit baskets, turndown
chocolates, and fluffy robes and slippers. (Cruising has become so
romantic that, well, Gilligan's even taking a second look at The
Skipper.) Of course the ultimate amenity is the bed. See Commandment
Six.

6) Love thy sleep.

Silversea has introduced sumptuous new bedding, realizing that a good
night's sleep together, afternoon nap, and spontaneous intimacy, are
lusted-after luxuries. You'll be spoiled by sleeping beauties: feather
beds, 100% Egyptian 320-thread-count cotton sheets, fluffy European
goose-down duvets, even plush pillow menus (just like those at
five-star hotels), for the ultimate snooze cruise. After our flight
"over the pond," we sunk down into our blissful bed and felt that this
port of call was, no, not London, but Heaven indeed.

7) Thou shalt steal stolen moments.

On Silversea, sweethearts can steal themselves away for unexpected
pleasures and new discoveries, fore and aft. Forget the "shoulds" and
let yourself go – to share educational lectures; complimentary
excursions and dinners (say, in a French wine chateau); classical music
performances; themed cruises; bingo; board games and any number of
belly laughs, when you least expect them. We delighted in taking
Silversea's new Viking Cooking Class demonstration (using
ultra-luxurious Viking appliances) taught by chef Riki Senn in the
Athena Lounge (complete with delicious tasting). Chef Senn, because we
docked in Honfleur and St. Malo, treated us to the secrets of making
French crepes (she instructed us that the batter needs to rest
overnight) and then whipped up delectable crepes filled with seafood,
as well as the typical Suzettes. We sat, hand-in-hand, taking notes to
remember for use later in our own kitchen. And speaking of cooking,
Silversea's Maitre D's Antonio Mendes and Artur Serra, as well as the
Executive Chef, assisted us in a wealth of special orders. Make sure to
follow our example! We requested all of our favorite things not
typically found on the menus – nonfat breads for breakfast;
ratatouille; lowfat carrot cake; broiled scallops; lowfat chicken
cacciatore – so that we could have the experience of truly customized
dining to our individual preferences. The head bartender, Sujith Mohan,
also constantly concocted my favorite diet drink – a lemonade made with
fresh-squeezed lemon juice, water, and Splenda. Everything was a real
treat, in more ways than one. Mr. Mohan also told me how he satisfied
all kinds of special requests – from fresh carrot juice to caviar – for
passengers, with his handsome, gracious smile and
let-me-go-the-extra-mile-for-you attitude. We also appreciate
Silversea's liquor policy, which means that anything you want is
covered in the cost of your cruise – whether you drink regular or
virgin Pina Coladas, watermelon martinis, single-malt scotch, grappa,
port wine – and everything in between. Your stateroom also comes with
four bottles of premium spirits of your choice. We also thrilled to the
complimentary dessert wine – a spectacular Lagara Moscato d'Asti – that
was served after dinner and also sent to our room by the sommelier.

8) Thou shalt not covet thy neighbor's Louis Vuitton luggage.

In other words, pack these must-have items for your romantic
rendezvous: Elegant room spray in your favorite fragrance (I love
Diptyque's Violette); bubble bath; massage oil; romantic DVDs (check
out ship's video library; chances are you can finally watch When Harry
Met Sally together); digital camera and VCR; and a travel diary to
record daily adventures. Don't forget your nicest outfits and best
jewelry; dressing up for dinner is an experience to be savored,
especially on formal nights. You'll live happily ever after for the
length of your cruise.

9) Thou shalt create surprises.

Silversea's sophisticated staff know how to make every moment count.
Ask them for rose petals strewn on your bed, on the floor, and in your
bathtub (unbeknownst to your spouse). Request a special recipe – a
favorite cake, ice cream, or entree -- as a surprise. Arrange for milk
and cookies served to you, at the hot tub, at midnight. If there's a
birthday or anniversary (such as the day you first met) to celebrate
with champagne, all the better. Bring something from home to wow your
spouse with. Bill once surprised me in Venice with a custommade diamond
ring that he brought from Boston, and the Silver Wind staff gladly
assisted with his heartfelt subterfuge. Shipboard surprises can turn
memories into magic, faster than you cay say "starboard."

10) Honor thy feelings.

It's bound to happen, so just run with it. Your cruise ends, and your
loved one utters those three little words you long to hear: no, not "I
love you," but "Let's book another!" (especially if complimentary vow
renewals are offered). Translation: your cruise was everything you
thought it would be – and more.

For more information, contact Silversea Cruises. For a brochure, call (877) 215-9986.

SIDEBAR: MORE FOR YOUR DOLLAR IN LISBON

During our Silversea trip, we were appalled at the dollar-to-Euro rate
– it was so bad that essentially everything in the European ports of
call were double the price in American dollars. That's just one
advantage of cruising on Silversea – all of your meals and alcohol,
including fine wines, are included in your price, so you don't have to
worry about spending Euros – or any currency - for dinner – or anything
else. Even if you have deep pockets, it's great to know that your
cruise has locked in prices, so you don't have to worry about a
weakening dollar.

Everything changed, however, when we disembarked in Lisbon; we
initially worried about the cost of our meals and entertainment – but
it's a city that you should definitely check out. A luxury traveler
heading to Europe will find few bargains – except in Portugal. In fact,
a full week at a 5-star hotel in Lisbon can be about the same price as
just one or two nights at a luxury hotel in other European capitals. In
Lisbon we stayed at the Hotel Olissippo Oriente
(www.hotelolissippo-oriente.com), a four-star property with 182 modern
guestrooms; it's located in the Parque das Nacoes, the lovely
metropolitan area where Expo 98 occurred. Our luxurious double room
(with wonderful European high-thread-count sheets) cost just $148 per
night, and it included a sumptuous buffet breakfast in the hotel's
restaurant. For fun, we took a quick five minute walk to the Vasco de
Gama shopping center, where you should check out two of my favorite
European bargain-based stores: Zara and Promod, where you can find
first-class fashions at coach prices.

With all the money you can save in Portugal, you can definitely afford
another Silversea Cruise! Consider Silversea's newly christened
expedition ship, the Prince Albert II; it set sail first to the Arctic
Circle, Iceland and Greenland for the summer, and will then reposition
to South America and Antarctica for autumn and winter voyages in 2008.