Chinese stocks have seen big booms and busts. They can quickly swing from in to out of favor, investors who time the moves correctly can make good money in them.
During the last big swing, Chinese stocks rose about 600% fold in 2 yrs, 2006-2007.
The Shanghai Composite Index, which tracks the largest and most important Chinese companies, climbed from about 1,000 to 6,000.
Then the index then fell to below 2,000 in less than a year.
Today the Shanghai is at that mark, see chart below;
After a 70% decline, Chinese stocks are out of favor with investors.
Chinese stocks today are much cheaper than they were at their bottoms in Y's 2005 and 2007.
The Shanghai Composite Index now is trading for the cheapest P/E and P/B ratios ever seen.
You can buy this index of Blue-Chip Chinese companies for just 7.4 times forward earnings and 1.1 times forward book value. That is cheap.

This index traded for over 40 times earnings in Y 2007. And over the last 15 yrs, its average P/E ratio has been over 30, about 3 times more than where it trades today.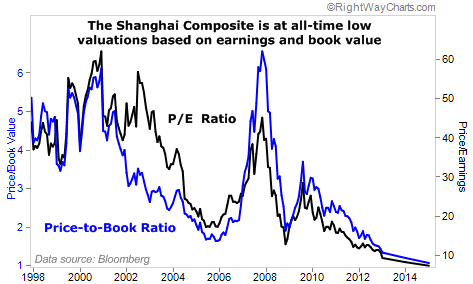 Chinese stocks are volatile, and see booms and busts. Based on history, the Shanghai Composite Index can easily return hundreds of percent when it gets going again, and here is the cheapest point in history based on the P/E and the P/B ratios.
The trend in the Shanghai Composite Index is still down, tapping new lows daily, so for now China is still in its bust mode as we look for that reversal signal.
When it comes the opportunity in China will be very good IMO.
Investors should wait for the up-trend to start before getting in for the next Bull Run.
China should be on investor's Watch Lists now, the buying opportunity will come.
Put Market Vectors China Fund NYSEArca:PEK on your Watch List. It is the way to trade the Shanghai Composite Index IMO.
Paul A. Ebeling, Jnr.

Paul A. Ebeling, Jnr. writes and publishes The Red Roadmaster's Technical Report on the US Major Market Indices, a weekly, highly-regarded financial market letter, read by opinion makers, business leaders and organizations around the world.

Paul A. Ebeling, Jnr has studied the global financial and stock markets since 1984, following a successful business career that included investment banking, and market and business analysis. He is a specialist in equities/commodities, and an accomplished chart reader who advises technicians with regard to Major Indices Resistance/Support Levels.
Copyright Live Trading News All rights reserved.