Daily Gold and Silver Report Thursday 25th March 2010
Following the recent theme, gold has been under pressure as investors move in to the US Dollar, as concerns still persist on the parlous state of the Eurozone economies. The Euro hit ten month lows against the dollar, as we enter the two day EU summit. The decisions coming out of Brussels may well have a big impact on the future direction of gold for the short term.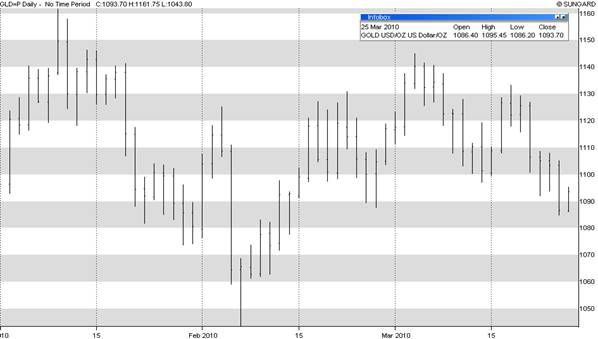 Gold & Silver
| | | |
| --- | --- | --- |
| Commodity | Level | Change |
| GOLD | $1,094.60 | +$8.15 |
| SILVER | $16.75 | +$0.20 |
Market News
Fitch ratings agency have downgrade their outlook on Portugal, furthering the downside pressure on the Euro.
Further compounding focus on Europe, the People's Bank of China Vice Governor Zhu Min stated that Greece is only the tip of the iceberg.
All commodity traders should note that Bernanke will testify this afternoon with regards to the US exit strategy, which may impact on the USD.
Major Economic News
| | |
| --- | --- |
| TIME | MARKET DATA |
| 1230 | US WEEKLY INITIAL JOBLESS CLAIMS |