Daily Gold and Silver Report Wednesday 5th May 2010
Whilst most of the commodity markets took a hit, the gold price maintained some stability as prices stayed well above the $1,150 level. The Dollar Index hit year highs as currency traders moved out of the Euro and in to the Dollar, and this has helped curb the move up for gold, but there is plenty of data coming up to ensure that gold remains volatile.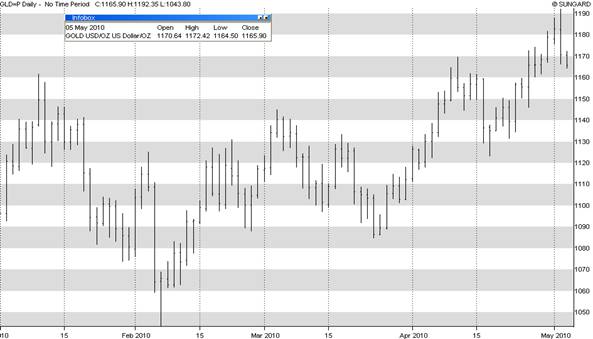 Gold & Silver
Commodity
Level
Change
GOLD
$1,166.15
-$3.85
SILVER
$17.64
-$0.18
Market News
The risk premiums on Spanish and Portuguese bonds increased as investors fret that they may be the next big casualties.
Spanish Prime Minister Zapatero was forced to deny that his country would soon be asking for E280bn of aid from the IMF.
Euro traders should note that the ECN are scheduled to announce their interest rate decision tomorrow.
Sterling traders should note that it is the UK General Election tomorrow.
Major Economic News
TIME
MARKET DATA
1315
ADP EMPLOYEMENT DATA