Daily Oil Report Wednesday 5th May 2010
Oil pulled back as the Dollar hit one year highs against the other majors, and concerns over the health of the Eurozone economies gripped markets once again. With traders fleeing the Euro, they sought the relative security of the USD, which put some downside pressure on oil. The overriding concern about the strength of the global recovery also sent jitters across commodity markets, with traders concerned that any issues in Greece may halt the recovery.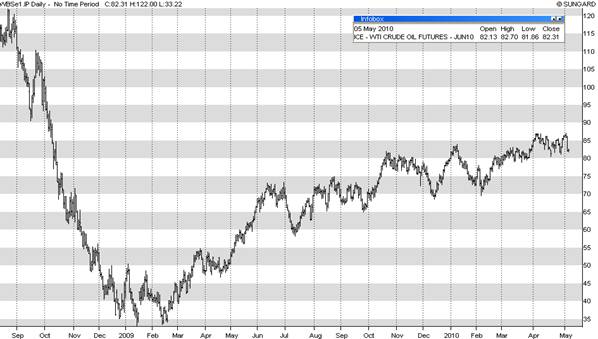 Crude Oil
Commodity
Level
Change
ICE BRENT CRUDE - JUN 10
$85.43
-$0.20
ICE WTI - JUN 10
$82.37
-$0.36
GASOIL - MAY 10
$713.75
-$10.25
Market News
BP have stepped up their efforts to stop the oil flow in the Gulf of Mexico by drilling relief wells with hopes of intercepting and isolating the spillage.
Royal Dutch Shell opened their largest petrochemicals complex, in Singapore, creating the groups largest fully integrated refinery and petrochemicals plant in the world.
The risk premiums on Spanish and Portuguese bonds increased as investors fret that they may be the next big casualties.
Spanish Prime Minister Zapatero was forced to deny that his country would soon be asking for E280bn of aid from the IMF.
Euro traders should note that the ECN are scheduled to announce their interest rate decision tomorrow.
Sterling traders should note that it is the UK General Election tomorrow.
Major Economic News
TIME
MARKET DATA
1530
WEEKLY EIA INVENTORIES