Dropping in on Asia's Highlife: Macau, Hong Kong and Bangkok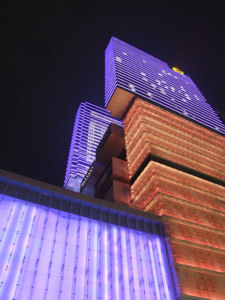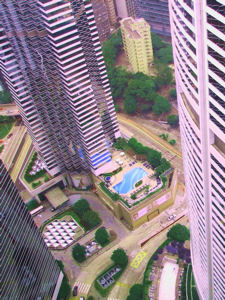 Macau (top left) is quickly shooting up as the world's
fastest-growing tourist destination. Pictured: Macau's Galaxy Starworld
Hotel. Hong Kong (top right) is a surreally highrise and dreamlike
city. This view looking down from Hong Kong Island's highest hotel, the
Island Shangri-La. Photos: Steve Warner

As I peered down at the glimmering city of Bangkok below -- the sky
train that appeared a miniature toy set and the cars that looked like
tiny gold bugs in toothpick-thin streets -- as I tried to forget that a
frail metal rail was all that separated me from a half-mile tumble of
doom, my thoughts turned to director Gus Van Sant. It was all the movie
maker's doing that I was dining up here at a glamourous rooftop
restaurant in the clouds that lacking windows, walls, and roof was a
setting straight out of my nightmares.

When I'd mentioned to Van Sant a while back that I would be traveling
to Thailand's chaotic capital, his response was immediate: Go to
Vertigo.

Prone to dizzyness – a spinning woozyness often kicked off by heights – I didn't like the very sound of it.

What's Vertigo?

Great restaurant on top of the Banyan Tree Hotel. Open air. On the 61st floor.

An open-air restaurant on the 61st floor?

Yeah. Incredible view. Nothing there but a rail. And the waiters are
racing up and down stairs carrying big trays and Asian girls are
teetering around on stilettoes. Really wild. You gotta go.

Right, Gus. I'm a dizzy klutz even on ground level. No way would I go there. Not even with a parachute.

You're a travel writer, Melissa! It's your duty!

I'm a travel writer with a deep-rooted fear of heights and a realistic
appraisal of my physical capabilities that overcomes any sense of
duty, I said. No way, Gus. No way.

Typically low-key Van Sant was insistent and wouldn't hang up until I promised to check it out.

True to my word, I promptly did check it out – finding a photo of
Vertigo on the Internet. The mere sight of the tippy-top restaurant
shaped like a ship sailing into the sky made my heart palpitate madly
and convinced me to never step near the place. I'd once stayed on the
30th floor of the Conrad Tokyo, and actually grew to adore the high-altitude getaway, but Vertigo was twice as high. Besides the Conrad had walls.

No way, I said to myself, taking in the picture of Vertigo with another shudder. No way.

This image of Banyan Tree's 61st floor restaurant triggered an
obsession. You get to the rooftop by climbing an open-air set of
stairs. Photo: Banyan Tree Bangkok.

Van Sant, however, had planted a meddlesome seed: over the next year, I
had countless dreams about shooting up elevators and dining in this
restaurant in the sky – dreams from which I awoke in a cold sweat,
although they were surprisingly thrilling. I became obsessed with the
place, and at the mention of Bangkok I'd ask total strangers, Have you
been to Vertigo? – only to hear the same raves I'd heard from Van
Sant. In recent months, outside forces seemed to point me there.
Penguin Books commissioned a book about the changing face of Asia,
which meant I'd be traipsing about skyscrapered cityscapes where hotels
shoot up to stories in the high double digits, and I would be forced to
come to grips with my fear of heights. And besides, I'd recently stayed
in my first Banyan Tree hotel – the fabulous Banyan Tree al-Areen
in Bahrain. That stay was so over-the-top wonderful, that it sold me on
this Singapore-headquartered chain where at most of their resorts,
the hotel rooms are actually stunning villas with private pools.

Determined to conquer my fear and live up to my duty (and to check out
more Banyan Trees) – and bolstered by the fact that photographer Steve
Warner would escort me -- I decided to take the plunge (so to speak)
and dine at Vertigo, arranging to stay at the hotel upon which it
resides, the Banyan Tree Bangkok. The rooftop dinner at Vertigo would
be the grand finale of a week of traveling -- to Macau and Hong Kong.

And then I began shooting off my mouth -- announcing to everyone that
I'd soon dine in the clouds, and shoving photos of Vertigo (which
suddenly appeared in every travel mag I picked up) into the face of
anyone within shoving distance, while loudly boasting that yes, believe
it or not, I would soon be hanging out there on the sixty-first floor.

Before long, I was waking in the middle of the night, screaming Noooo!
Dear God! What have I done? And that was before I even got to Macau
and Hong Kong.

Map by Steve Warner
Once Europeans conquered their world is flat phobia, China had
a hard time keeping the foreigners out. In the 1500s, Portuguese
traders and missionaries sailed in to Macau -- a hopping port in the
silk trade -- claiming it as a colony. The British later pushed into
Chinese lands, claiming nearby Hong Kong as their colony. (Even the
Japanese moved in, grabbing Taiwan). Hong Kong's dramatic rise as
international port (and finance center) eclipsed that of Macau, which
became a sleepy gambling getaway. The British handed back Hong Kong to
China in 1997, and the Portuguese gave back Macau two years later. Both
territories are now officially part of China, but they are special
autonomous regions and governed independently.

STOP ONE: MACAU – THE LAS VEGAS OF ASIA WITH A PORTUGUESE TWIST

There's only one problem with Macau: it's such a cutting-edge
destination that, until recently, few non-Asians had heard of it. To
brag to an American that you were jaunting off to Macau was to hear
Wow, I've never been to South America! or Hmm, Macau – isn't that an
exotic bird?

In 1999, when the Portuguese returned Macau to China, this
twelve-square-mile territory was mostly a backwater famous for
pastel-colored houses that were three stories tops. Now it's the
fastest-growing tourist destination in the world: the number of
tourists skyrocketed to 27 million last year. The reason: the
government recently opened up gambling concessions – and Las Vegas
hotels from the Wynn to the Venetian are swooping in. As a result,
Macau has shot up from a city of lowrises to a city of racing
skyscrapers almost overnight.

Macau's history lives on: In old taoist temples, worshippers burn
swirling spirals of incense and have fortunes told by tossing sticks.
Old Portuguese churches now often conduct services in Tagalog for the
Filipino workers who fill the pews, and the paintings of Mary and Jesus
may look rather different than those in the West (bottom middle).
Visitors can stay at Portuguese historical sites converted to hotels
such as the hilltop fortress turned five-star sleepery Pousada Sao
Tiago (bottom left). That photo: Pousado Sao Tiago. Other photos: Steve
Warner.
The territory where the local culture and gene pool blends Asian with
Portuguese is still choc-a-bloc with 17th-century chapels alongside
even older Chinese taoist temples, but it's Macau's new identity that's
put it on the Western map: with little competition elsewhere on the
continent, Macau is now the Las Vegas of Asia – although that billing
isn't quite accurate. As Warner put it, Las Vegas is soulless, while
Macau is dripping with history, and if you're bored in Las Vegas you
can't just shoot over to Hong Kong on a fast boat.

With all the money being pumped into it, Macau is expanding in every
way: even its land size keeps increasing thanks to land reclamation.
The horizontal spread is best illustrated along the recently created
Cotai Strip that physically connects two small islands: tens of
billions of dollars are being sunk into development and a dozen
high-end hotels are going in. Already home to the vast 3000-room
Venetian – the Venice-inspired casino-hotel with Renaissance-like
ceiling paintings and an indoor canal -- and the months-old Four
Seasons next door, the strip is home to two other megaprojects just
breaking ground: the Atlantis-inspired Dream Land (with a Hard Rock
Hotel, Hyatt Regency, Grand Hyatt and more) and Studio City, where
another half dozen big names hotels are set to outdazzle each other.

What I hadn't realized until I got there is that Macau is growing
vertically too. Flashy designer hotels of thirty floors and more – with
names like the Sands and the MGM Grand have shot up everywhere in the
last couple years. Which meant that, already fretting about the dinner
at Vertigo, I'd first have to contend with my acrophobia in Macau.


Sleepy
no more: Macau is a flurry of construction with a dozen skyscraping
luxury hotels going in. Between wild designs, the neon flash and
pizazz, and the sheer volume of development underway it's hard not to
jaw drop. The Wynn Hotel (top left) led the Las Vegas pack in and wows
the tourists hourly, when a golden tree of prosperity rises in the
lobby, and gamblers throw money at it before they throw money at the
tables. The Lisboa (upper right) has Macau's biggest casino and 24-hour
entertainment. Photos: Steve Warner.
The entry into the MGM Grand is so visually overwhelming – with a
sculpture by Dali in the middle, a huge orange petal chandelier by Dale
Chihuly hanging above, a dramatic wall of illuminated Chihuly sketches
to the left, and an entire psychedelic hallway that showcases his
blowings in neon colors -- that upon checking in I was dumbstruck and
didn't notice the floor on which our room was located. Then I looked
straight ahead to find a sight just as spellbinding: the grand covered
courtyard decorated like a movie set of downtown Lisbon -- the
Portuguese capital that once held Macau in its colonial portfolio.
Peering into chic restaurants, bars, and arched entrances to the
sprawling casino, I didn't think to notice the number on the room key.

It wasn't until just before I stepped on the elevator that I looked and
it registered: yikes, we were booked on the 28th floor. The elevator
whizzed up so quickly, however, that my phobia, which typically kicks
up when the elevator rises more than five inches, didn't have time to
sink in. Upon swinging open the door, I was so taken by the fetching
room – with a bathtub behind glass and a décor of golds, bronzes and
grays -- that by the time I gazed out the window, the view of a bridge
stretching across the Pearl River only enthralled me.

I didn't know it would be so easy, but my fear of heights had been
conquered, and I shed any anxieties about the upcoming rooftop dinner
in Bangkok.

MGM Grand's dazzling interior and fab restaurants distracted me
from my fear of heights. Photos: top left, bottom left, and bottom
right: Courtesy MGM Grand Macau. Other photos: Steve Warner.

After sightseeing – Chinese temples and gardens, colonial fortresses
and chapels, (See Macau: Top Ten) and a day feasting on Portuguese food
– stuffed shrimp bigger than lobster tails, seafood soup, baked
bacalau, chorizo in brandy, spice-infused African chicken, crab
casseroles, melted goat cheese with honey, and crepes flamed tableside
– after a night feasting on nouveau Chinese (all vegetarian, no MSG) –
and after washing down both meals with plenty of fine Portuguese wine
(widely available and decently priced), we were off to a rollicking fun
start, a festiveness further enhanced when Warner wandered into MGM's
snazzy casino, where he reported that's he'd doubled his money at the
roulette table (though he never would say how much). Spending the next
day visiting old cemeteries and wandering through Macau's most
compelling museums (one history, one art, and one about wines,
including tasting of fine ports), I didn't even cringe when stepping
into the elevator of the Macau Tower.

No problem at all.

It wasn't until after the doors slid shut, and we began the ascent up
and up, that I noticed that the elevator was glass. By the time the
doors opened onto the observatory on the 59th floor, I felt all
hyperventilatey. While Warner ran around shooting the views, I hovered
close to the elevator, spinning. The sight of bungee jumpers strapping
into harnesses for their elasticized fall from the top – the tower is
the world's highest from which to spring off – gave me the willies; so
did the observatory's floor, much of it being see-through -- offering a
view 59 floors down that I didn't want to drink in.

When I recalled that the Vertigo was even higher, I nearly passed out.

The daring bungee jump off of Macau Tower. Left photo: Macau Government Tourist Office. Right photo: Steve Warner.

By the time the elevator landed on ground level again, I was seriously
considering racing to the next phone and canceling the rooftop dinner
in Bangkok.

I didn't get around to it though, being kept busy running around to the
casinos to see their assorted acts. At the Venetian, we took in an
amazing show of the resident troupe Cirque du Soleil – whose nightly
performances are part dance, part circus, part special effects theatre,
and the drama often unfolds up overhead -- where air balloons float
down from the ceiling and bicyclists ride upside down. Waltzers take to
the floor nightly at the Lisboa, Macau's highest hotel and just outside
the Wynn, every hour, a huge disc on the floor – emblazoned with the
signs of the zodiac – pulls apart and amid lights and dramatic music, a
golden oak rises from the floor: it's the Tree of Prosperity, believed
to bring good luck to gamblers, though it had no such effect on me. And
by our last night, spent eating tapas, drinking Portuguese wines and
hanging out in a suite at Pousada Sao Tiago, which shoots up a whopping
three floors – I felt confident again; I shrugged off my flipout at the
Macau Tower as a result of the earlier tasting of port, not a portent
of upcoming disaster.

But then we went to Hong Kong.

Elevator-free Pousada Sao Tiago – where rooms wind this way and
that across three stories -- grounded me. Built into a 17th century
fortress, the hotel -- a popular place to take in tapas on the
tree-shaded terrace -- boasted suites with leather floors, abalone
tiles in the bathroom, a TV in the mirror over the sink, and a shower
that transformed into a wondrous steam bath. Top middle photo: Pousada
Sao Tiago. Top right and bottom right photos: Macau

Government Tourist Office. Other photos: Steve Warner.