EU Markets Surprisingly Quiet
European stock markets were quiet on Monday, as traders mulled the impact of rating downgrades for nine euro-zone nations and awaited a French debt sale.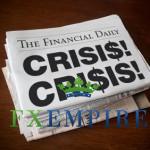 The French CAC-40 index dropped 0.1% to 3,193, pulled down by banks. Societe Generale S.A. dipped 1.4%, Credit Agricole S.A. plummetted 1.1%, while BNP Paribas S.A. lost 1.4%.
The U.K.'s FTSE 100 was flat at 5,635. The DAX 30 index rose 0.4% to 6,169.5.The pan-European Stoxx 600 index edged up 0.2% to 249.7 in early afternoon trading. U.S. markets are closed Monday for Martin Luther King Jr. Day.
Today, Moody's place France's triple-A debt rating  under review due to thegrowing risk from levels of debt and problems elsewhere in the euro zone.  France was downgraded by Standard & Poor's last Friday, losing its triple-A rating. Reiterating its stance on France, Moody's said: The deterioration in debt metrics and the potential for further contingent liabilities to emerge are exerting pressure on the stable outlook of the French government's Aaa debt rating.
The French government now has less room for maneuver in terms of stretching its balance sheet than it had in 2008. It added that on the external side, the fiscal consolidation process across its trading partners is also a potential drag on growth. Moody's said that as it indicated in October, France's rating remains under review and it will update the market during the first quarter of 2012.
The European Financial Stability Facility, or EFSF, is the euro zone's temporary rescue fund. It's triple-A rating rests on guarantees from euro-zone countries. And with France, the region's second-largest economy no longer rated triple-A, the EFSF is seen as likely to lose its triple-A as well unless euro-zone governments boost their contributions.
With the European Central Bank unwilling to go whole hog in snapping up troubled European government bonds, the EFSF is still seen as an important-but-undersized safety net for banks and troubled sovereigns.
This comes as efforts to boost the firepower of the fund have failed to gain traction, with Berlin and the ECB resisting calls to provide leverage through the central bank and China and other foreign investors balking at making large-scale investments in the fund.
Euro-zone countries have provided guarantees of 780 billion euros ($986 billion) to the EFSF, which gave it triple-A lending power of €440 billion.
With France and Austria losing their triple-A ratings, the fund's triple-A funding power drops to €271 billion.
While finance ministers from the 17 euro nations issued a statement saying they would explore the options for maintaining the EFSF's triple-A rating, comments from German officials indicate Europe's biggest financial power would prefer to settle for a double-A-plus rating.
I was never of the opinion that the EFSF necessarily has to be triple-A, Merkel said in a radio interview, according to Bloomberg. Double-A-plus is also not a bad rating. By stepping the issue.
The EFSF is set to be replaced by a permanent rescue fund, the European Stability Mechanism in July.
Banks plummetted on Monday as this limits the liquidity available to banks and also increases the possibility that a country could default. Greek negotiations have broken down as of the end of the week.