Forex Signals – EURUSD Bear Second Break
Recap: Our short was triggered on the 15:21 support break at 1.2950, but we closed it out at 1.2957 for a 7 pip loss when the entry candle closed above our entry (false break). Another support break did occur at 1.2956 and jumped 30 pips into the profit, but we passed on that short as we don't take a second break unless we state we will in our daily analysis.
The weekend is fast approaching and, after the drop yesterday, we are short-term bearish on the pair. We will stay bearish as long as the falling resistance (top blue line) stays intact but since the resistance is more than 50 pips away it probably won't produce the *pop* we look for in our break trades.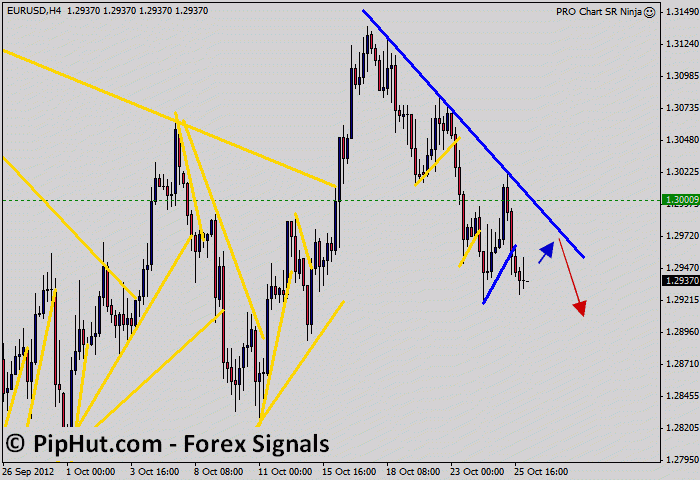 Today's Important News Events:
Date
Time (UTC)
Event
Forecast
Previous
Fri
Oct 26
12:30
USD Gross Domestic Product (Annualized) (3Q A)
1.9%
1.3%
12:30
USD Gross Domestic Product Price Index (3Q A)
2.1%
1.6%
13:55
USD U. of Michigan Confidence (OCT F)
83
83.1
*To see a more extensive list of news events (not just those we consider important), visit our Forex Calendar.
Trading Idea: We won't take any new trades in this pair before the weekend (for the reasons given above), but we are bearish and aggressive traders could look to get short on a resistance bounce (proximity alert).
For more forex info, go to PipHut