Forex Signals - EURUSD Bearish Consolidation
Recap: No trades were triggered from yesterday's signal as the price never rose enough for us to get a good short price. Price continues to consolidate after the large drop from yesterday morning.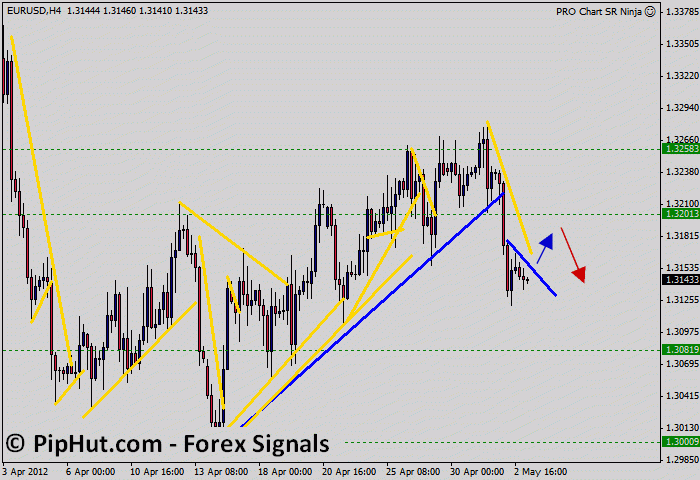 Today's Important News Events:
Date
Time (UTC)
Event
Forecast
Previous
Thu
May 3
09:00
EUR Euro-Zone Producer Price Index (YoY) (MAR)
3.4%
3.6%






11:45
EUR European Central Bank Rate Decision (MAY 3)
1.00%
1.00%






*To see a more extensive list of news events (not just those we consider important), visit our Forex Calendar.


Biggest news out today is the ECB interest rate decision, which we expect will be held steady at 1.00% and therefore won't impact price action much.
Poor european economic performance continues to be the fundamental driver behind the USD strength, with employment rates among Euro countries at a 15-year high and no clear sign of improvement for the future. Luckily this is forex and we profit no matter which way the exchange rate is going :).
Technically after the big drop yesterday morning the pair has taken out several intraday supports and has a bearish outlook, so we will primarily look for reasons to get short.
Trading Idea: Despite the bearish outlook we will first look to establish an aggressive long on a resistance break (as there is a decent resistance at the moment) with targets at 20/20/20/20 for 80 pips profit. We will move our SL early and often to minimize risk and also look to close and get short on a support break when one forms.