Forex Signals - EURUSD Bull Party
Daily Outlook: We stayed flat from yesterday's signal as there was absolutely no extinction candle (e.g. a nice long wick on a shooting star) for confirmation as the pair blew through 3600. In fact the only 1h candlepro signal we had from 06:00 to 17:00 was a Bullish Engulfing signal:
The pair finally did meet with some resistance under 1.3700, after which the price fell a good 75+ pips to 3625. It is currently consolidating between 3600 and 3700 (with a potential tight range between 3600 and 3660). The medium term trend is now clearly bullish while the short-term price action has begun to consolidate and limp sideways as bulls and bears appear to have a bit of an equilibrium at the moment.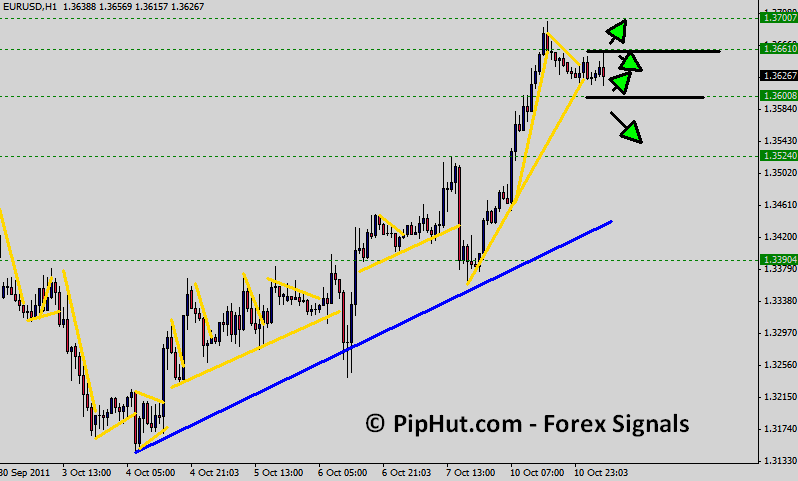 Trading Idea: Because price is stalling out our primary trades will be shorts today, starting with a short under 3700 on a solid bearish extinction candle or two-candle signal (e.g. three inside down) and targets at 3675, 3650, 3620 and 3590 for 110 pips potential. This trade would also signal that we have a double top in place under 3700 and mean more significant losses are ahead for the pair so we would keep a lot open for a downside challenge of 3500.
If price stalls out before getting above 3680 then we will look to get short on a sustained break below 3600 with targets at 3575, 3550, 3520 and 3490 for 110 pips potential.
Finally in a nod to the recent bullish uptrend we will look to get long on any dip that last long enough to form a new falling trend resistance line - or around 3600 with a bullish 1h or 4h candlestick confirmation targeting a rise to 3700.