Forex Signals - EURUSD Bullish Channel
Daily Outlook: Our primary trade was not triggered yesterday as we never saw a downside break of the bullish consolidation channel, but we did have our secondary trade activated (long near 3600-3630) as CandlePRO kicked up a solid bullish Hammer on the 1h charts, which resulted in a nice 100+ pip rise:
The third trade was also triggered (short on a rise to the top of the channel near 3750) on a 19:00 shooting star that closed right at 3750. That trade has gotten up to 50 pips in the profit and we are still currently short, with a stop loss that has been moved to break even to eliminate risk in the trade.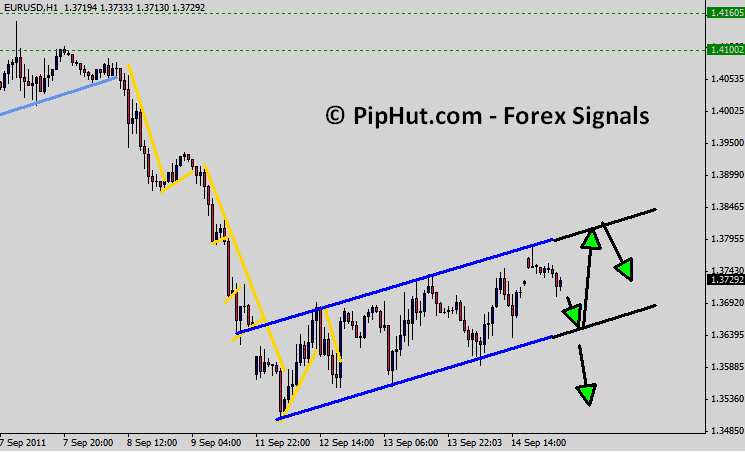 Today we are generally looking for the same types of setups as the flag pattern is still holding true on the 1h and especially the 4h charts.
Trading Idea: Our primary setup will remain a short on a sustained break to the downside of the channel's rising support at 3625, with targets at 3600, 3570, 3540 and 3510 for 115 pips potential.
We are also still currently short from 3750, and will look to close and get long on a drop to 3650 support (bottom of channel) with CandlePRO candlestick confirmation. Targets from 3650 at: 3675, 3700, 3725 and 3750 for 100 pips potential.
There is of course a third option: if we see a drop to the bottom of the channel, then a rise to the top of the channel then we will look for shorts near the top of the channel though at this point that trade is so many steps away it is hard to say where the top of the channel will be at that time (it is, as the name implies, a rising trend resistance).