Forex Signals - EURUSD Candlesticks Lead the Way
Daily Outlook: This is why we love candlesticks in combination with support and resistance (S/R) here at PipHut. In yesterday's analysis we drew our S/R lines and listed three of the trade setups we were looking for. But as every traders know as the S/R's develop and as the candlesticks unfold changing the technical picture of the chart then your trading setups have to change as well.
Just as a reminder, here was yesterday's chart:
Notice the blue falling trend resistance line, and the arrow up indicating that if the line is broken we expect a rally to the black line (which is where our primary short was listed as). We didn't include the long in our setups because, at that point, it was too aggressive. But then the next two candles were 100% strength bullish signals in CandlePRO, shown below (click to enlarge):
In fact, yesterday almost every 30m signal in CandlePRO went for at least 50 pips with very little drawdown, meaning even if your SL was tight your profited. CandlePRO users know this isn't always true - so why was yesterday different? The answer was that almost every signal happened at an S/R line, or after a break of an S/R line, giving added weight to the signals. Here are as many 30m signals as we could fit in one screenshot (click to enlarge):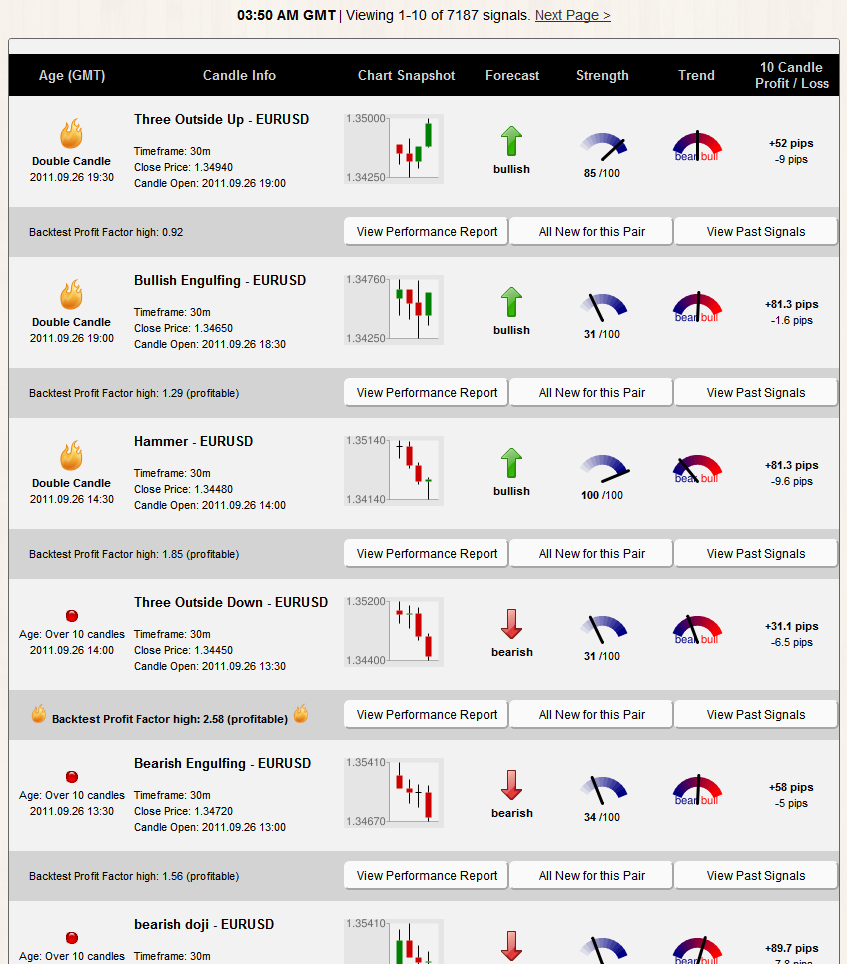 Today we are back to trading the the tight range between the blue S/R lines, primarily looking for a long on a sustained break of the topside or a short on a sustained break of the downside.
Trading Idea: Primary trade is a short on a sustained break below 3470 with targets at 3450, 3425, 3400 and 3370 for 100 pips potential.
Secondary is a long on a drop to 3480 with CandlePRO confirmation and targets at 3500, 3525, 3550 and 3580 for 100 pips potential.
Finally the aggressive long is on a sustained break of 3550 on 1h charts with targets at 3570, 3590, 3620 and 3650 for 100 pips potential.
Safe Pipping :).