Forex Signals - EURUSD Climb and Fall
Daily Outlook: Welcome back to a new week PipHutters - hard to believe we are already over the halfway point for October and quickly approaching the end of 2011 - seems like just yesterday we were starting this year! If the protests around the world are any indication than we may be in for a rocky 2012 - luckily we are traders, and while we definitely have an interest in the how our communities are doing we possess the remarkable ability to trade in either direction and profit from either direction, whether an economy is humming along or circling the tank.
And today, it appears that the EU is humming along as it has made higher highs and higher lows for the entire month.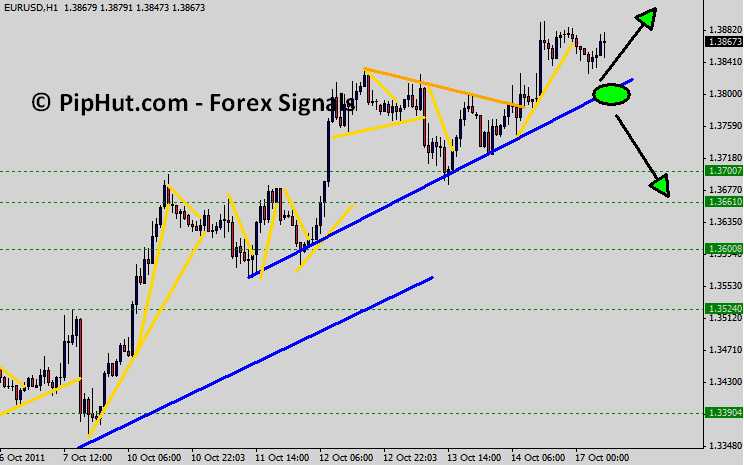 We don't see the first major resistance to this upside run until 1.40, where we may start to see some good profit covering, and even then 1.41 looks to be more solid resistance than 1.40. The best thing 1.40 has going for it as resistance is that it is a large round number and we all know how trader's feel about large round numbers ;).
Trading Idea: Our primary trade in an uptrend, of course, is a long and the first place we will look is rising trend support currently around 1.3800 with candlestick confirmation. Our targets from this support zone will be 3830, 3860, 3890 and 3920 for 120 pips potential.
If we see a sustained break below 3800 on 1h or above, which would indicate that a week old rising trend support (shown in blue above) is broken, we will look to get short with targets at 3770, 3740, 3710 and 3680 for 120 pips profit potential to the downside.