Forex Signals - EURUSD Down the Hatch
Daily Outlook: Welcome to November, Piphutters! We are looking forward to another great month of trading.. time to make our end of the year runs! Lots of volatility in the markets yesterday (relatively quiet on the boards though) as the pair crashed through our rising trend support (orange line on chart below). No bullish candlesticks on our support meant that we finally got short yesterday on the 18:00 candle which closed below the orange rising trend support we were watching - and then promptly dropped 100+ pips in our direction :).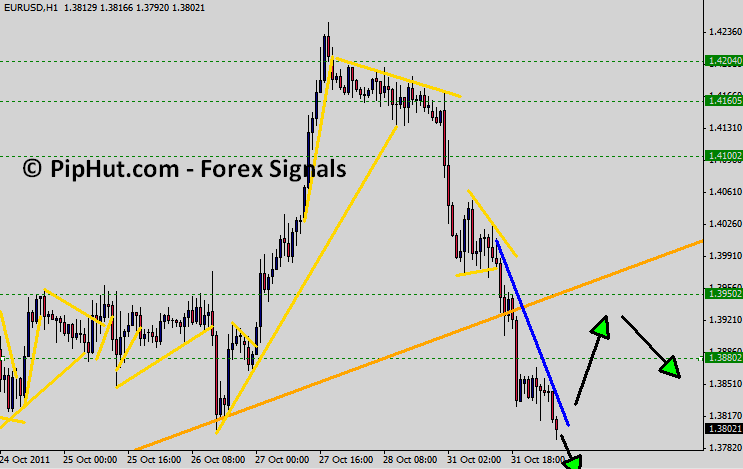 Trading Ideas: Today we are tracking the aggressive falling trend resistance (blue line on chart above) and will look to get long on a break above - currently at 3850 - with targets at 3870, 3895, 3925 and 3955 for 105 pips potential.
3850-3900 is also a pretty solid resistance band, however, and after yesterday's strong bearish move we will be looking for bearish candlesticks in this zone to close our long or, if we miss the long entry, get short to begin with. From 3870 our targets are: 3850, 3825, 3800 and 3770 for 100 pips potential.
In general we are bearish after the breaks of daily support and looking for reasons to get short.