Forex Signals - EURUSD False Breakout
Daily Outlook: We took the initial short on the 08:00 break of 1.3700 (yesterday's primary) only to close out for a 12 pip loss when the candle failed to sustain the break below 1.3700 on close (as per trade instructions). We then looked for our aggressive secondary - long above 1.3700 - and got our wish within the hour as we had not one but two bullish candlestick confirmation signals (circled in green below) that were good for about 100 pips apiece: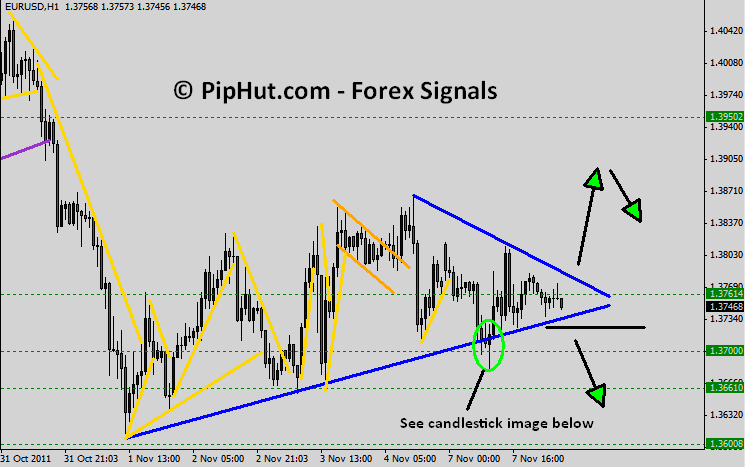 Here are the confirmation signals enlarged. Notice how much more valuable candlestick signals taken at good support/resistance are:
Trading Idea: Our trades are basically the same as yesterday as the overall technical outlook for the pair is still intact. For our primary we will look to get short on a break below blue rising trend support (currently at 3730 and rising) with targets at 3710 *tight*, 3685, 3660, 3630 and 3600 for 110 pips profit. If the break fails to make a sustained break on close we will close and look for our aggressive secondary trade.
Our first aggressive trade is a long with confirmation signal if we fail to see the sustained break for the primary trade, same as yesterday. With support currently at 3730 we will target 3750, 3775, 3805 and 3835 for 105 pips potential.
Good Pipping to everyone today.