Forex Signals - EURUSD Final Trading Month
Daily Outlook: Welcome to December, the final trading month of 2011. Decembers tend to be a volatile month as trading volume thins out as many traders begin to relax for the holidays and, more importantly, banks and funds begin to unwind large positions for year-end reporting purposes. We may have seen a bit of that yesterday as the pair turned off of our short and jumped well over 200 pips in an hour. Our primary short from our support break yesterday got +40 into the profit before swinging back and hitting our T1-SL for +20.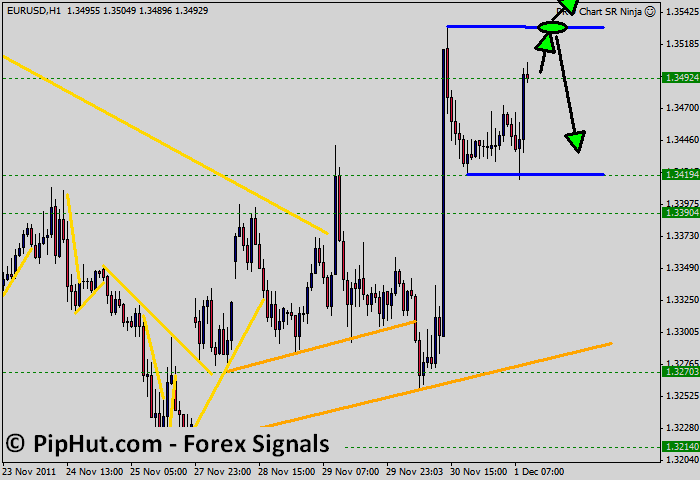 Other than the large swing we witnessed yesterday follow through on breaks has been a rare commodity for the EU so far this week as choppy trading has been the norm. Support definitely seems to be holding better than resistance levels, however, helping the pair to form higher lows and higher highs and giving it a bullish tint heading into the end of the week.
Trading Idea: It appears the pair is consolidating between 3530 and 3420 at the moment, and we will look for reasons to trade either level. If the pair turns down here, from current levels around 1.3500 before getting to 3530 then our primary will be to get short on a brekak below 3430 with targets at 20/25/25/25 pips for 95 pips profit.
If pair keeps rising from here we will look to get long on a break above 3530 with targets at 20/20/30/30 for 100 pips. We will close this long and get short if the break is not sustained.
Scalpers can of course look to carve off a few pips on either side of the S/R lines.