Forex Signals - EURUSD Gap Closed
Recap: Our SL of 1.2520 from our short (last Friday) held long enough for our trade to get 75 pips into the profit - just 5 short of our ultimate target. We closed for 45 pips profit as the pair began to curl upward in the final trading hours of last week at our tightened SL.
The pair opened with a large bullish gap over the weekend, perhaps on the news that Spain was also in line to receive a bailout, but that hope quickly turned to selling as Greece is set for another vote on the terms of the bailout and the fact that there is just a general sense of unease regarding the will of the German people to continue financing these bailouts.
Technically this manifested itself on the chart at first as the bullish gap (hope) and then a 160 pip drop since then (contagion). The pair is approaching rising support and is under an aggressive falling resistance that we will look to take a short-term long entry off of the oversold hourlies, though we are still bearish in the long-term.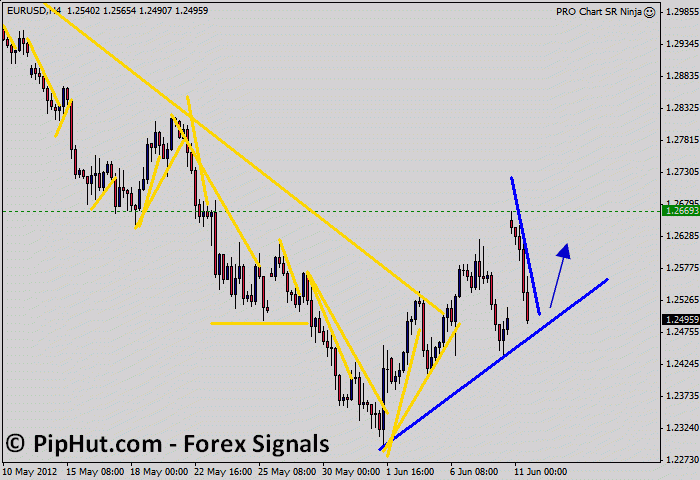 Today's Important News Events:
Date
Time (UTC)
Event
Forecast
Previous
There are no events scheduled.
*To see a more extensive list of news events (not just those we consider important), visit our Forex Calendar.
Trading Idea: We will take an aggressive long off of a resistance break with target OR off of a support proximity alert (whichever occurs first) with targets at 20/20/20/20 for 80 pips profit. We will close on a false break of the resistance alert.