Forex Signals - EURUSD Getting Short
Recap: Sorry about our technical difficulties yesterday with the free EU signal! While PRO members were able to read the EU signal just fine there was an error message being displayed on our main page for free users. We apologize and it should be sorted out now!
Our short from yesterday got 25 pips into the profit before reversing on us to hit our trailing SL for a 25 pip loss.
The pair is back where it started today (1.2760) and appears that investors are willing to call this area fair price for the time being. Probably not because they actually believe this is fair price but because of the uncertainty of the eurozone equation they are at a loss of how many Euros they should sell from their portfolio.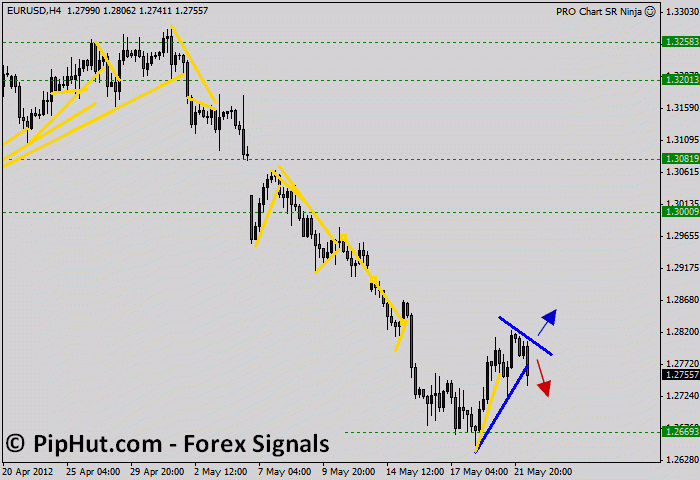 Today's Important News Events:
Date
Time (UTC)
Event
Forecast
Previous
Tue
May 22
08:30
GBP Consumer Price Index (YoY) (APR)
3.1%
3.5%






08:30
GBP Core Consumer Price Index (YoY) (APR)
2.0%
2.5%






*To see a more extensive list of news events (not just those we consider important), visit our Forex Calendar.


Trading Idea: We are going to establish another aggressive short at current price (1.2760) as we are still bearish and our aggressive rising support was just punctured. Short targets at 20/20/25/25 for 90 pips profit.
We will also get long on another resistance break though we will move our SL early and often to minimize risk.