Forex Signals - EURUSD Great Start
Daily Outlook: Great start to the week yesterday as our aggressive short on the sustained break below 1.3640 got triggered around 3635 and got ~50 pips in the profit - we only took +30 as we trying to give the trade at least a little breathing room. Then our secondary trade got triggered on a nice bullish doji right on the support we were watching (1.3600 and the CandlePRO signal closed at 1.3602 - only 2 pips off) for another +100 pips:

The only trade that wasn't triggered yesterday was our primary and that is because we never saw enough bullish power to close the gap from the weekend. Today we are looking for more of the same, and will look to get short again as our primary trades and long as aggressive trades.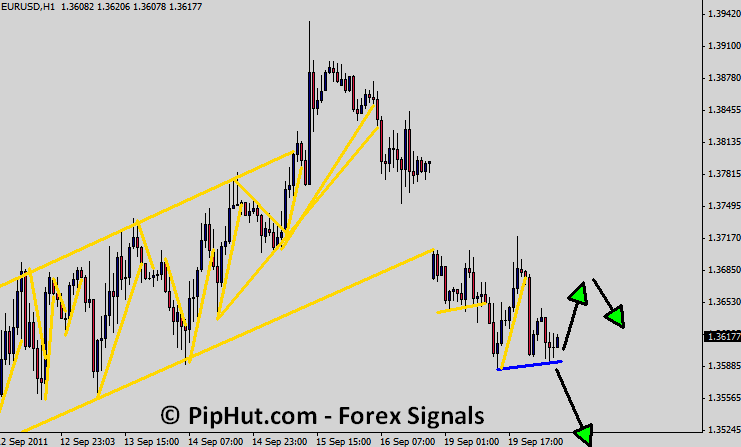 Trading Idea: Today's primary will be a short on a sustained break of the blue, short-term rising trend support (currently around 3585) with targets at 3560, 3535, 3505 and 3475 for 110 pips potential.
The support zone around 1.3500 could provide a nice support trampoline (as one of our regular 'hutters likes to say ;) and we will look to take an aggressive long there with CandlePRO confirmation and targets at 3525, 3550, 3575 and 3600 for 100 pips potential.
Finally if we do see a rise in the pair we will look in the area of 1.3680-3700 with candlestick confirmation to take a short targeting back down to 3600 for 80-100 pips potential profit.
Safe pipping out there and remember: a failure to plan is a plan for failure ;).