Forex Signals - EURUSD Intraday Update
What is an Intraday Update? 2-3 times a month we do an intraday update, usually if there are no good setups to trade during the 6a-8a UTC time period we normally publish analysis. This allows the charts to develop a bit more and, hopefully, produce a higher probability setup for us to share with you.
Recap: No trades taken yesterday due to Easter creating thin market conditions in many countries around the globe.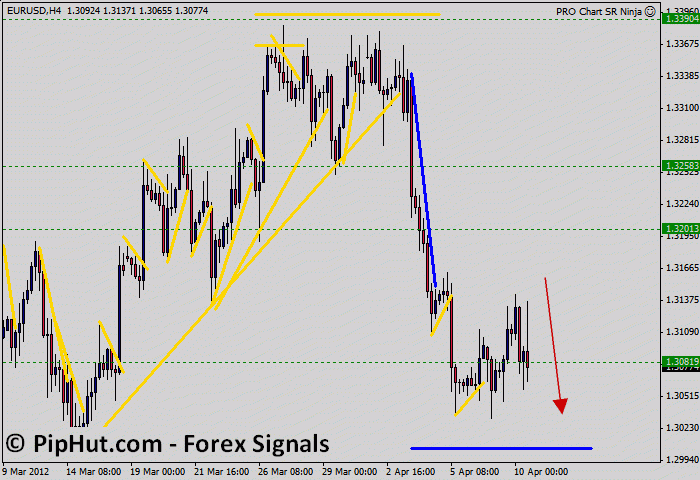 Today's Important News Events:
Date
Time (UTC)
Event
Forecast
Previous
Tue
Apr 10
03:09
JPY Bank of Japan Rate Decision (APR 10)
0.10%
0.10%
*To see a more extensive list of news events (not just those we consider important), visit our Forex Calendar.
The pair has been extremely volatile since early April as the market participants try and determine how to react to the Bernank (Bernanke) and his news that further money printing is on hold for the time being.
General feelings on the street are that there is no way that the US can avoid another QE3, especially with problems in other PIIGS countries starting to come to a head.
Technically the pair appears to be in a sloppy bearish flag pattern, meaning we are bearish in general and would look for opportunities to sell.
Trading Idea: We are waiting for a clean support line to form and break so that we can get short on a higher probability setup (flat for now), however we are bearish on the pair in general and would look for opportunities to fade rallies (sell on 4h highs) if we weren't swing trading.