Forex Signals - EURUSD Intraday Update
What is an Intraday Update? 2-3 times a month we do an intraday update, usually if there are no good setups to trade during the 6a-8a UTC time period we normally publish analysis. This allows the charts to develop a bit more and, hopefully, produce a higher probability setup for us to share with you.
Recap: No trades taken from Wednesday morning's analysis as the proximity alert we were looking didn't occur yesterday - we did get one this morning around 7:11 but by that time it had already been almost 24 hours.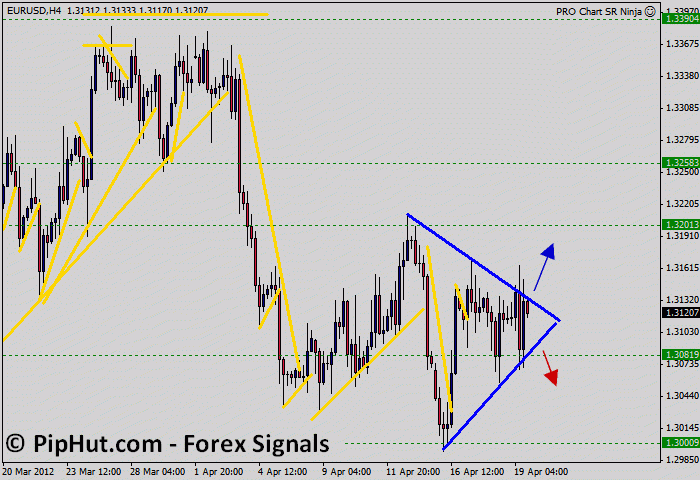 Today's Important News Events:
Date
Time (UTC)
Event
Forecast
Previous
No news that we consider HIGH importance for Thu Apr 19.


*To see a more extensive list of news events (not just those we consider important), visit our Forex Calendar.


The pair has been in a large consolidation triangle, absorbing news of a worse jobs picture in the US, China's furthing easing of its currency peg and, of course, the fiscal situation of various European countries.
Overall we are still bearish on the pair technically, but the market is in an inflection point right now, waiting for more clear fundamental direction. If no positive news comes out we see the EU continuing to sink.
Trading Idea: We will remain flat for the day as their are no solid S/R lines to trade at the moment.