Forex Signals - EURUSD June Trading
Recap: We were saved by the false breakouts yesterday, helping to keep our losses minimal as the markets drifted along without any sort of conviction. First was our long from 1.2411 at 10:12 UTC - that candle closed at 1.2405 getting us out of the long with a small 6 pip loss. Then our short was triggered on the support break at 1.2341 - that entry candle closed at 1.2362, kicking us out of our trade with a 21 pip loss. Total EU for the day: -27 pips. Remember, a key part of any swing trading strategy is to keep our losses small and let our profits run and false breakouts are just one of the tools we use to do so with our system.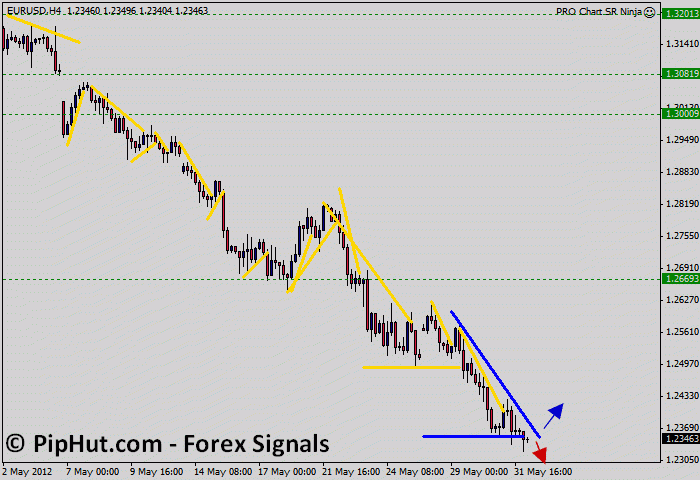 Today's Important News Events:
Date
Time (UTC)
Event
Forecast
Previous
Fri
Jun 1
12:30
USD Change in Non-farm Payrolls (MAY)
150K
115K






12:30
USD Unemployment Rate (MAY)
8.1%
8.1%






12:30
USD Personal Consumption Expenditure Core (YoY) (APR)
1.9%
2.0%






14:00
USD ISM Manufacturing (MAY)
53.8
54.8






*To see a more extensive list of news events (not just those we consider important), visit our Forex Calendar.


Trading Idea: We will remain flat going into the weekend with the expected low volume that Friday brings. The pair is also moving without conviction, though it does have a clear direction: down. With a solid downtrend for the past 5 weeks if we were trading today we would be looking to get short on support breaks or rallies.
Have a good weekend!