Forex Signals - EURUSD On Key Support
Daily Outlook: Our secondary trade from yesterday's signal was activated perfectly when the sustained break of 3800 occurred (without kicking up a buy signal first) on the 10:00 1h candle (p.s. here is a chart we posted in the comments yesterday that has the sustained break circled in black). The short got +75 pips into the profit and we booked +40 per lot on our tightened stop-loss as the bulls began to retrace on top of daily support shown in blue below: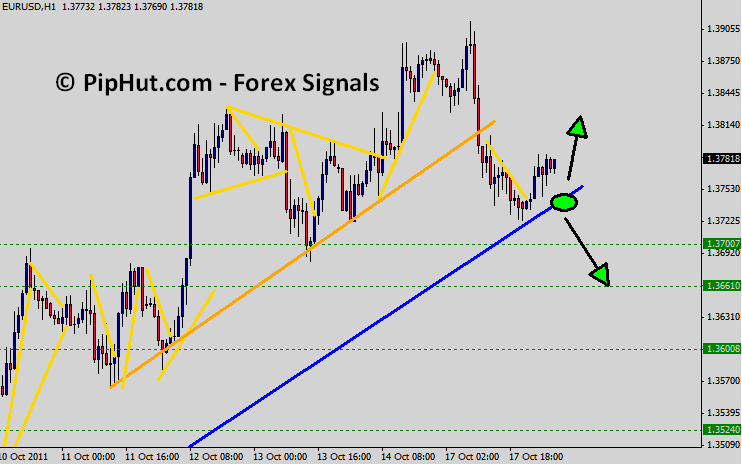 Pair has been curling away from intraday rising trend support (blue line on chart above) as bears take some profit off their trades and speculators look for another bullish push. We are tracking this rising trend support as our key pivot for the day: we will look for reasons to get bullish on dips to this support with candlestick confirmation and short on sustained breaks below.
Trading Idea: Our primary and secondary trades are about equal but considering that the trend has been primarily bullish recently we will defer to the bulls and stick with long opportunities over shorts. We will look to get long on dips to intraday support (blue line above), currently around 3750, with candlestick confirmation and targets at 3775, 3800, 3830 and 3860 for 110 pips potential.
Our secondary setup is a short on a sustained break below 3740 with targets at 3720, 3690, 3660 and 3630 for 110 pips potential.