Forex Signals - EURUSD Mind the Gap
Daily Outlook: We didn't trade last Friday (as usual - Fridays tend to be low volume which leads to either little price movement or increased volatility). It was a bit of a strange end to the week last week with price first breaking the top of our consolidation channel - which we accurately thought would not last due to the triple acceleration fan lines that showed bull exhaustion - and then to start the week this week with a bearish gap below the bottom of the consolidation channel we were tracking last week.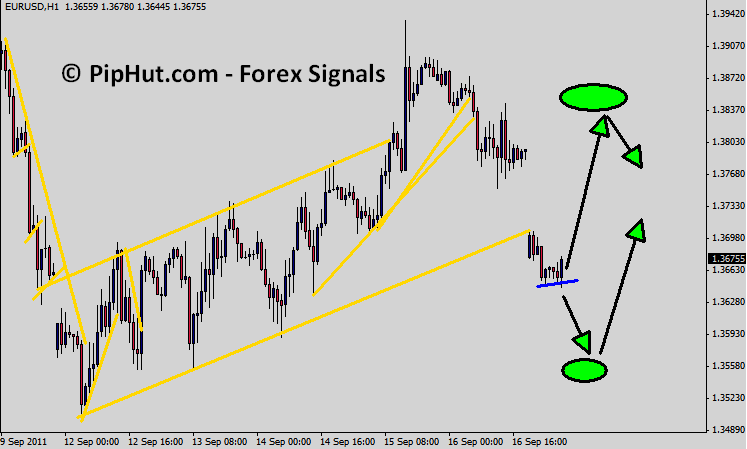 We remain overall bearish on the pair due to the large bearish movements and downtrend present on the daily charts and so our primary trade today will be looking for an opportunity to sell if the pair does jump up to close the gap.
Trading Idea: Primary trade will be a conservative short on a rally to close the gap around 1.3800 with CandlePRO confirmation and targets at 3775, 3750, 3720 and 3590 for 110 pips potential.
If the price continues to fall before closing the gap (or even attempting to close it) then we will look to take an aggressive long near 1.3600 support with candlestick confirmation and targets at 3625, 3650, 3675 and 3700. Our strategy here is that there will be enough buyers at lower levels looking to eventually close the gap and enough bears willing to take at least part of their position's profit around this level.
There is also an opportunity for an aggressive swing trade going short on a sustained break below current short-term support (shown in blue on chart above), currently at 3640 with targets at 3615, 3590, 3560 for 80 pips potential. We will watch the 3580-3600 area closely for the aggressive long trade mentioned above.
Safe pipping today and have a good week ahead :).