Forex Signals - EURUSD Noose Tightening
Daily Outlook: The noose is tightening around the EU as the pair continued to consolidate in an every tightening triangle pattern. The pair did take a nice bounce off of our bottom support, rising over 100 pips, but we did not take that trade as we were looking for breaks of support or resistance to enter: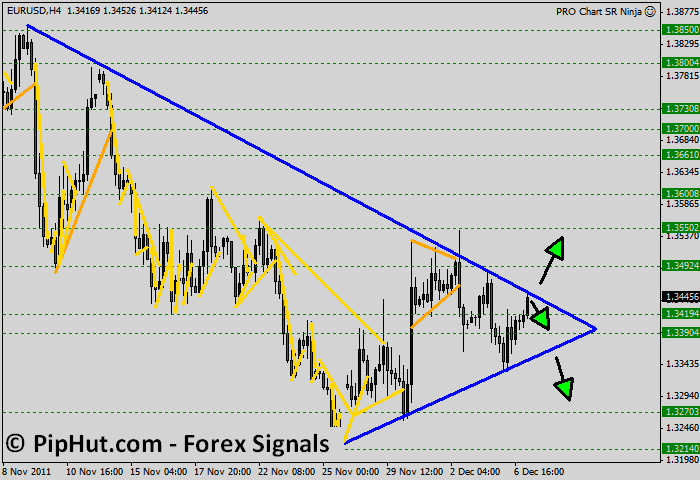 The pair is currently nuzzled up against the top of falling blue resistance and we will look to get long on a break above this resistance level as our primary trade today. The fundamental situation out of Europe continues to be as clear as a foggy night, and we would not be at all surprised to see a melt up here as markets look to buy the rumor and sell the news after the EU summit.
Trading Idea: Primary trade is long on a break above *blue falling resistance, currently at 3450 and falling with targets at 20/25/30/30 for 105 pips profit.
If the pair turns down we will look to get short on a break below *blue rising support, currently at 3350 and rising, with targets at 20/25/30/30 for 105 pips profit.
There is of course still room to short near falling resistance or long near rising support - yesterday this provided 100+ pips if you followed this aggressive trade.
*Pro users will receive email alerts when blue S/R lines are broken if the have turned on EU S/R alerts.