Forex Signals - EURUSD Riding the Pip Coaster
Daily Outlook: Yesterday was a lot of up and down - in our benefit though as each up and down produced a nice S/R line (shown in orange, yellow and blue below) that was good for solid pips on each break. Even our forecasted support line (black rising support from yesterday's signal) was almost dead on. We did get caught on the wrong side a couple of times on the last orange support there (we are looking at you, 13:00 and 14:00 candles) but in each case the candle closed back above support so we were able to close out for minimal loss.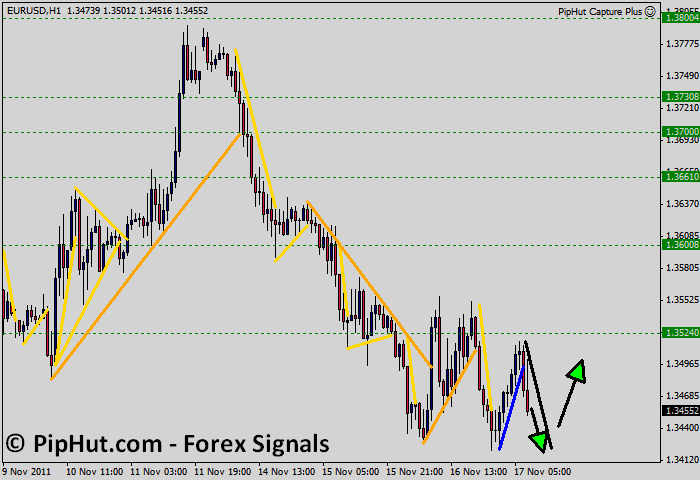 Trading Idea: Thanks 'hutters for pointing out our number error - we would love to be short from 3885 :). Following our S/R strategy we are currently short from the last support break (blue line) from 3485 (current price is 3475 on our charts). The pair has already gotten 35 pips in the profit but is now much closer to our starting point. Targets are: 3465 (hit), 3440, 3410 and 3380 for 105 pips potential. As always we will look to stop and close when the new falling resistance falls and is broken or if our SL is hit at 3520.
We are, in general, bearish on the pair and our vote is for 1.33 to be hit before 1.36 in the coming days. What is your vote?