Forex Signals - EURUSD Short Reload
Daily Outlook: We closed our short from yesterday for a respectable +80 pips after some strong bullish signals showed up in CandlePRO around 10:00 and 11:00 yesterday, and the pair has been in a tight flag consolidation pattern for the past 23 hours or so: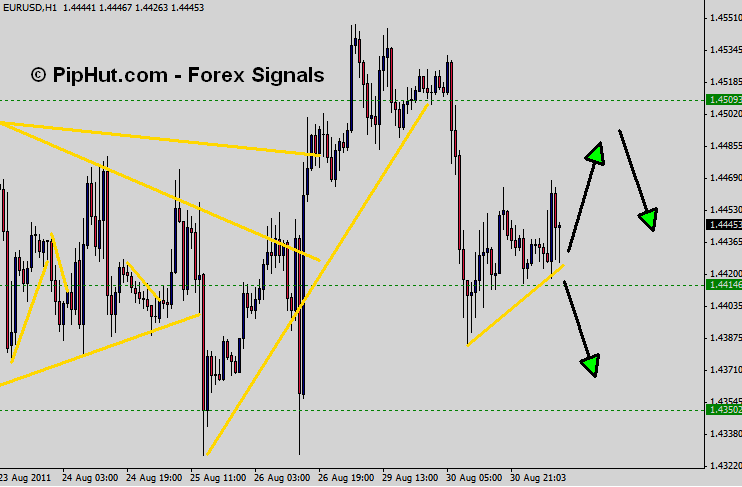 This flag pattern is a decidedly bearish pattern as a downside break of the flag channel support (last yellow line) would be a sign that there is more downturn to come. In the event of a bearish downside break we are looking for at least 1.4350 to be hit, with 1.4270 close behind.
Trading Idea: Primary trade is a short on a sustained break below flag rising trend support (last yellow line) currently @ 1.4415 with targets at 4390, 4360, 4330 and 4300 for 115 pips potential.
We will also look for a more conservative short on a rally to 1.4500 (or slightly under) with good candlestick confirmation and targets at 4470, 4440, 4410 and 4380 for 120 pips potential.
Finally for aggressive traders there will be opportunities to get LONG on bounces off of the rising trend support (last yellow line) on smaller timeframe candlestick signals, targeting 30-40 pips at a time.