Forex Signals - EURUSD Soft Targets
Daily Outlook: Our analysis yesterday was square on the nose as the pair dropped to former falling resistance at 1.3850, found support and shot upward, jumping almost 130 pips in the process. Here is yesterday's chart as a reminder: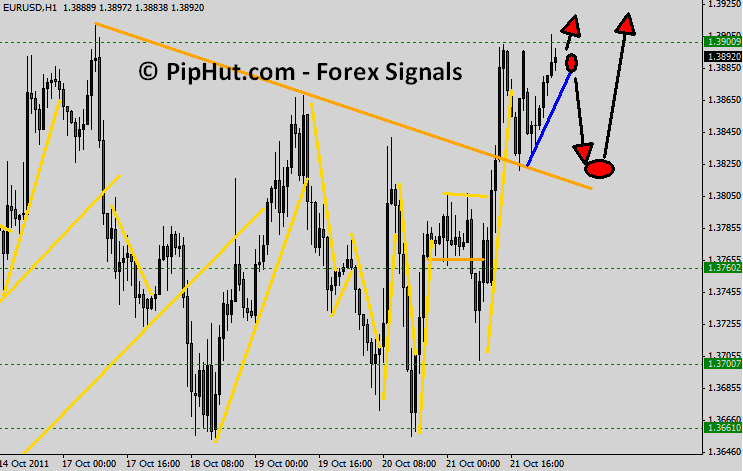 And here is today's chart, showing the result: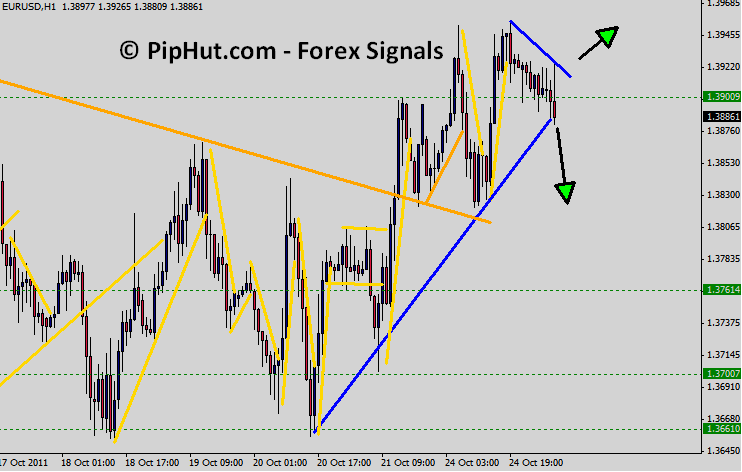 As you can see from the chart above the pair is currently consolidating in a tight bearish channel after a nice hanging man appeared at 18:00 (click to view) just under 3950 resistance and has driven the pair down about 50 pips.
Trading Idea: We view the blue falling trend resistance (top blue line) as our key initial pivot for the day and will look to get short below it and long above it. Our primary trade is a long on a break above the resistance, currently around 3930 with targets at 3950, 3975, 4000 and 4030 for 100 pips profit.
We will also look for aggressive shorts beneath 1.3920 with 15m and 30m candlestick confirmation and target at 3900 (tight t1), 3875, 3845 and 3815 for 105 pips profit.
Finally there is room for an aggressive short on a sustained break below the blue rising support (bottom blue line) for a swing trade, currently at 3880, with targets at 3855, 3825 and 3800 for 80 pips profit.
Good pips today, and we are asking the same question as yesterday for today's poll!