Forex Signals - EURUSD Tug of War
Recap: We got long around current price (1.26) on the resistance break that occurred a couple hours ago at 4:02 UTC. Tat trade is still hovering around break even.
After an eventful end to last week the pair has been slowly creeping downward as bulls take profit and bears don't yet have enough conviction to drive prices below 1.2550 - our mid-term support. With the bullish break above our falling resistance we are looking to capture some pips on the upswing, however a break below 1.2550 and we will get short.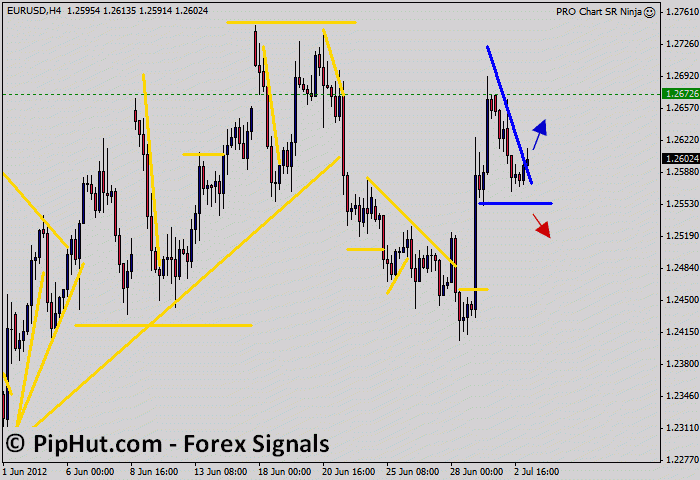 Today's Important News Events:
Date
Time (UTC)
Event
Forecast
Previous
Tue
Jul 3
04:30
AUD Reserve Bank of Australia Rate Decision (Jul 3)
3.50%
3.50%






09:00
EUR Euro-Zone Producer Price Index (YoY) (MAY)
2.5%
2.6%






*To see a more extensive list of news events (not just those we consider important), visit our Forex Calendar.


Trading Idea: Our long from 1.2600 is still open with targets at 20/20/20/20 for 80 pips. We will look to close and get short on a support break with targets at 20/20/25/25 for 90 pips profit if one occurs.