Forex Signals - Happy 4th of July!
Happy Independence Day! Though July 4th is a US holiday the basic tenants of any independence day, regardless of what country you are from - the natural rights of mankind to freedom, independence and the pursuit of happiness - are something we feel that everyone can support. So happy July 4th, PipHut Community! Thanks to everyone (especially all you regulars! for making PipHut the best forex community on the web!
Recap: Our long from 1.2600 yesterday nearly got stopped out as the pair dipped to 1.2558 in afternoon trading, and then jumped up to 25 pips in the profit. 1.2550 support held firm. We are going to stay in the trade with our SL still down at 1.2550. The pair appears to be consolidating once more for another stab upward (bullish flag pattern).
Today is a US holiday, with all US banks closed, which may give the Euro a bit of an edge throughout the day.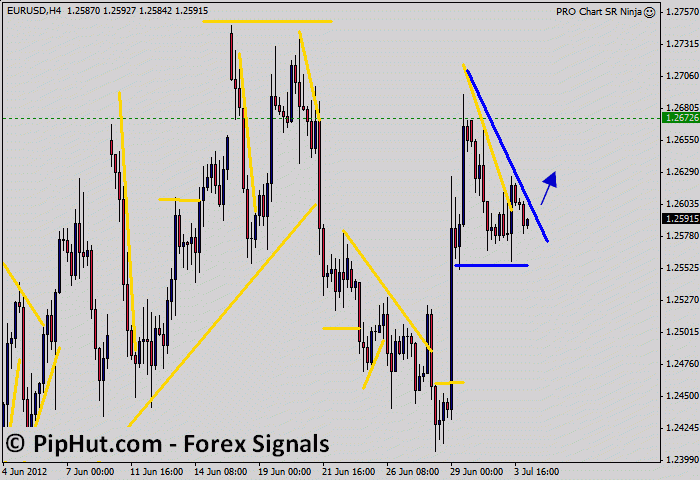 Today's Important News Events:
Date
Time (UTC)
Event
Forecast
Previous
Wed
Jul 4
09:00
EUR Euro-Zone Retail Sales (YoY) (MAY)
-1.0%
-3.4%






*To see a more extensive list of news events (not just those we consider important), visit our Forex Calendar.


Trading Idea: As mentioned above our long from 1.26 is still alive and well with our 50 pip SL and targets at 80 pips. Normally we would look to close and get short on a support break but with the US Banks closed we will pass on that setup today.