Forex Signals and Poll - EURUSD We're Back!
Daily Outlook: and we're back! We had some technical difficulties the past 48 hours that prevented our Monday analysis (and delayed today's analysis) but we are back and this death star is now fully operational! The markets are still looking for direction after the the S&P downgrade of US debt rocked the news over the weekend.
For those not familiar with it the AAA debt rating is a very coveted status and basically labels an investment as "risk-free". There is an ongoing debate about what losing the AAA status truly means to the US economy (and whether it was deserved), but for the forex markets it increases the chance of a downside risk as risk-aversion should still lead to a flight to USD safety.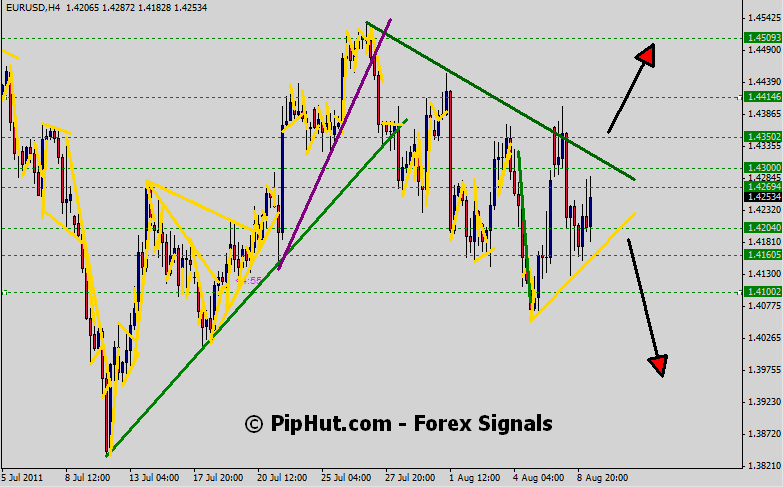 This market confusion has shown itself on the charts as a triangle consolidation pattern (see last yellow and green lines on chart above and we will be watching for a long above or short below those lines though we are primarily bearish and looking to short on rallies.
Trading Idea: Our primary trade will be to get short under 1.4350 with targets at 4325, 4300, 4270 and 4240.
We will also be looking to get short on a sustained break under 4160 with targets at 4135, 4105, 4075, 4045.
At this stage we are going to pass on the long on a sustained break above 4360 as we think risk-aversion will keep any rallies to a minimum.