Natural Gas Fundamental Analysis March 16, 2012, Forecast
Analysis and Recommendations:
Natural Gas has moved up a bit to trade at 2.303 up from 2.2850. Natural-gas added to gains Thursday after a weekly government inventories report showed a larger-than-expected decline. Natural gas climbed over 1.4%. This will most likely be the bottom and NG should sit here for quite a while.
The U.S. Energy Information Administration said in its weekly report that natural gas storage in the U.S. in the week ended March 9 fell by 64 billion cubic feet, after declining by 80 billion cubic feet in the preceding week.
Analysts had expected U.S. natural gas storage to drop by 58 billion cubic feet.
Inventories fell by 60 billion cubic feet in the same week a year earlier, while the five-year average change for the week is a decline of 79 billion cubic feet, according to U.S. Energy Department data.
Total U.S. natural gas storage stood at 2.369 trillion cubic feet as of last week. Stocks were 735 billion cubic feet higher than last year at this time and 807 billion cubic feet above the five-year average of 1.562 trillion cubic feet for this time of year.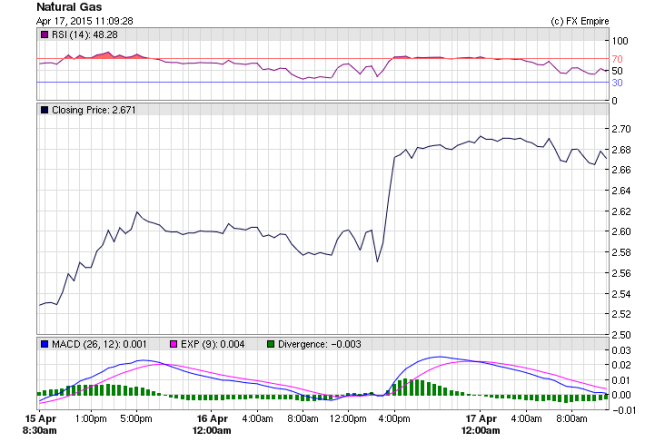 Economic Events: (GMT)
WEEKLY
Natural Gas Pivot Points (Time Frame: 1 Day)
Name S3 S2 S1 Pivot R1 R2 R3
Classic
2.0727
2.1458
2.2007
2.2738
2.3287
2.4018
2.4567
Fibonacci
2.1458
2.1947
2.2249
2.2738
2.3227
2.3529
2.4018
Camarilla
2.2203
2.2320
2.2438
2.2738
2.2672
2.2790
2.2907
Woodie's
-
2.1412
2.1915
2.2692
2.3195
2.3973
-
DeMark's
-
-
2.3012
2.2601
2.1732
-
-