NZD/USD Forecast January 26, 2012, Technical Analysis
NZD/USD originally had fallen during the Wednesday session as the markets were a bit weaker. However, the Federal Reserve promised to keep rates at current levels until late 2014, and this in turn punished the US dollar yet again. This of course had a run towards commodities, and the Kiwi will always gain in that situation.
The weakening dollar should only add fuel to the fire in this pair as the commodity trade just got a shot in the arm from the Fed. The Kiwi should continue to rise in value, and the pair will get stronger and stronger over time. However, the move has been a bit strong over the last few sessions, so we prefer buying dips going forward - as long as we are over the 0.80 level. We will not sell this market now.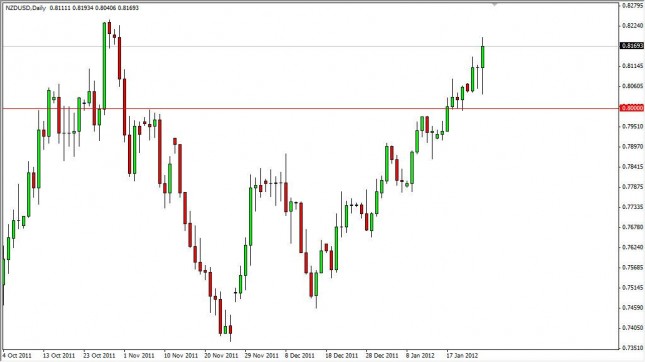 NZD/USD Pivot Points (Time Frame: 1 Day)
 Name  S3  S2  S1  Pivot  R1  R2  R3
 Classic
0.7920
0.7981
0.8094
0.8155
0.8268
0.8329
0.8442
 Fibonacci
0.7981
0.8047
0.8088
0.8155
0.8221
0.8262
0.8329
 Camarilla
0.8160
0.8176
0.8192
0.8155
0.8224
0.8240
0.8256
 Woodie's
-
0.7994
0.8121
0.8168
0.8295
0.8342
-
 DeMark's
-
-
0.8298
0.8170
0.8124
-
-