2013 Grammy Illuminati Rumors: Were Rihanna, Beyonce & Jay-Z Repping The Occult? [VIDEO & PHOTOS]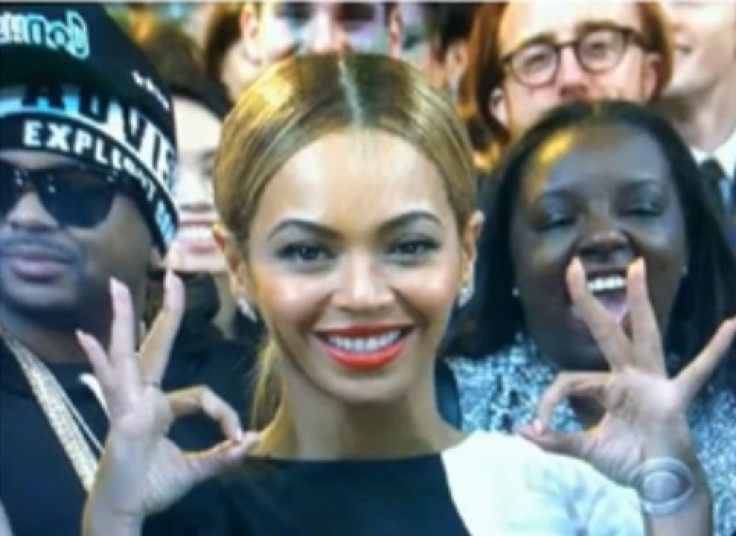 Rumors are running wild that Beyonce, Jay-Z and Rihanna were repping the Illuminati at the 2013 Grammy Awards via subtle symbols and gestures. Is it true?
Many occult watchers have long alleged that many top stars including Mr., Mrs. and Blue Ivy Carter and RiRi are members of a secret group called the Illuminati or that they are practicing Freemasons or Satanists.
And the claims continued late Sunday night and Monday as images and video supposedly backing up such assertions went viral online after the Grammys concluded.
First Queen Bey. Beyonce was called out by Illuminati Watcher for supposedly flashing the a hand gesture signifying the biblical "Mark of the Beast" while attending the award show, just a week after she supposedly did something similar at Super Bowl XLVII:
"Beyonce was blowin up the Illuminati theories after her Super Bowl Roc hand sign (which I'm not really thinking is TOO sinister, but whatever). Now she threw up the '666′ hand sign at the Grammys and Mark Dice was all over it. Also notice the CBS All Seeing Eye in the bottom right."
Here's the video that accompanied the site's post and purportedly backs up the Beyonce-Illuminati connection conspiracy:
Now for Jay-Z. Media Takeout alleges that a blingy ring Jigga wore to the Grammys and that was on his finger during his performance of the hit song "Suit and Tie" alongside Justin Timberlake was a symbol of the Illuminati:
"Jay Z must have wanted to get people talking. With ALL the rumors that he is a CARD CARRYING member of the ILLUMINATI, Jigga showed up to the Grammy's wearing a LARGE jewel encrusted ring - which looks like the ANCIENT rings worn by members of SECRET SOCIETIES. Either that . . . or Jigga doesn't care WHO KNOWS his affiliations ."
That comes on the heels of allegations by Illuminati Watcher that the video for "Suit and Tie" is fraught with references to the Illuminati.
And lastly, Rihanna. Illuminati conspiracy watcher Kevin Gilmour alleges that RiRi also wore an Illuminati ring to the 55th-annual Grammy Awards Sunday night:
"Is that an all seeing eye illuminati ring that Rihanna was wearing during her Grammy performance?"
Here's the video that accompanied his claim:
So though there's a lot of so-called evidence that the Illuminati was in the house Sunday night, there's no way to determine whether it's nothing more than a coincidence and much ado about nothing.
© Copyright IBTimes 2023. All rights reserved.
FOLLOW MORE IBT NEWS ON THE BELOW CHANNELS