2014 State Of The Union: How Grand Can Obama's Shopping List Be?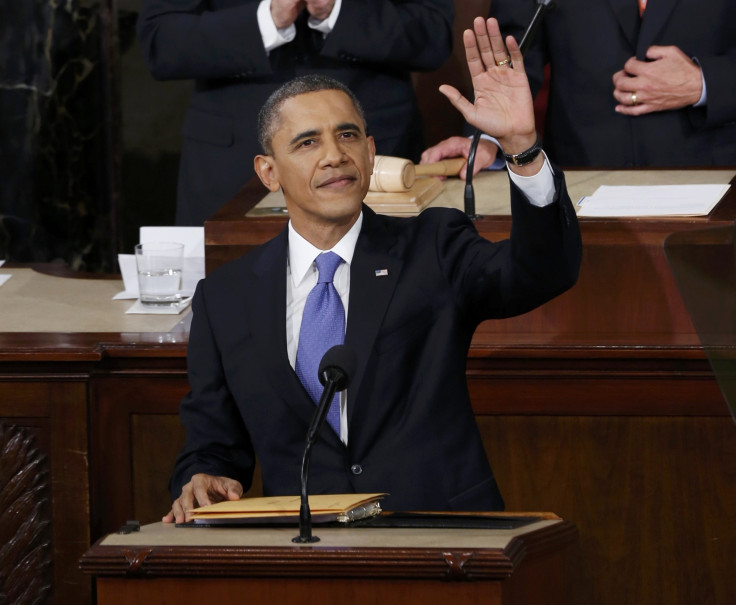 At the end of 2013, President Barack Obama stood at a briefing at the White House and declared "2014 needs to be a year of action." When Obama delivers his 2014 State of the Union address Tuesday, the public -- and Congress -- should know exactly what those words mean.
Obama is quickly approaching lame-duck territory. His average job approval rating going into the SOTU is a comparatively low 43.7 percent. The Affordable Care Act, also known as Obamacare, which is the president's chief legislative achievement thus far, has made mostly negative headlines since its fumbled rollout last October.
The Obama administration and Democrats know that realistically they cannot push anything big past their Republican opposition.
Still, here are some things to look out for during the State of the Union speech:
Year Of Action ... Executive Action?
According to Dan Pfeiffer, senior adviser to the president, Obama's SOTU speech is going to be about opportunity, action and optimism. Obama will reiterate the idea that if you play by the rules, then you should have a chance to succeed no matter who you are or where you are from.
From bills pertaining to veterans, trade, comprehensive immigration reform and the budget, Congress is a lot more bipartisan than it thinks it is. But some bipartisan bills remain stuck in chamber over differences in tactics. To see some movements on these bilateral issues in Congress, expect the president to reiterate that he is willing to work with anyone -- Republican or Democrat -- to achieve "sensible" solutions. But Congress has also been gridlocked frequently, and Obama will end up bypassing lawmakers if he has to.
This is what Dan Pfeiffer, senior adviser to the president, said in an email to supporters over the weekend. "President Obama has a pen and he has a phone, and he will use them to take executive action and enlist every American -- business owners and workers, mayors and state legislators, young people, veterans, and folks in communities from across the country -- in the project to restore opportunity for all."
The question that remains is on what issues will the president use the stroke of the pen, and on what issues the bully pulpit?
Comprehensive Immigration Reform
If the president's speech can be summed up with the words "opportunity, action and optimism," then nowhere else do all three matter more than in immigration reform. But not just any type of reform. The White House wants comprehensive immigration reform that spells out the fate of America's estimated 11 million undocumented immigrants.
Obama supports a Senate bill that cleared the chamber last June and provided them with a pathway to citizenship. The president said also he is OK with House Republicans taking a step-by-step approach to immigration. The GOP leadership is expected to soon propose a set of broad principles concerning the issue, but still won't go to conference with the Senate bill.
Immigration advocates are calling on Obama to use executive action to stop deportation -- whose numbers have reached a record under his presidency -- while opponents say the president should be enforcing the laws on the books. Obama has ruled out using executive action on this issue where such sweeping action is a violation.
"There's not much that he can do by way of executive action on immigration. I think that the view in the White House that that's the one thing that Congress actually might be able to achieve, the one big thing," said Matt Bennett, Democratic strategist and senior vice president for public affairs at the public policy think tank Third Way. "He has to walk very carefully because he doesn't want to spook House Republicans by getting too involved. At the same time he can't be too removed because he believes so deeply in it and because he's got his own base to worry about. It's a tricky line that he has to walk on immigration."
Nonetheless, the public is waiting to see what Obama says about immigration in his speech.
The Economy: Jobs, Income Inequality, Energy
"We've got work to do to create more good jobs, to help more Americans earn the skills and education they need to do those jobs and to make sure that those jobs offer the wages and benefits that let families build a little bit of financial security."
Watch for Obama's plan on just how he intends to achieve that with either near-term or long-term solutions, including minimum wage, unemployment insurance and income inequality. This may be the area where the president could use executive action to his advantage. Examples of actions the president can take, according to Bennett, include requiring federal contractors to raise the minimum wage that they pay employees working on federal projects. Obama can also focus attention on the rules relating to the way the federal government does business.
On energy, Obama can use the power of the federal government's purchasing authority as an incentive to companies to change the way that they manage their energy or how they treat workers, Bennett added.
"There are things that he can do as the CEO of the world's biggest company to change some things," he said. "There are things that he can do to control and demand change without Congress but it is pretty limited."
Albeit limited, they can be seen as near-term solutions.
"On Tuesday night, the President will lay out a set of real, concrete, practical proposals to grow the economy, strengthen the middle class, and empower all who hope to join it," Pfeiffer's email read.
Stopping The Political Bloodshed
For vulnerable Democrats heading into the midterms, the impact from the glitch-ridden Obamacare rollout is still a major concern. Though Obama, on many occasions, has admitted that the administration bungled the HealthCare.gov rollout, Democrats are still uneasy about how this will play out in the 2014 midterm elections.
The SOTU will be the highest-profile place where the president will seek to soothe Democrats' concern. With more people signing up for the law, a positive message should be coming on this issue, if nothing else to drown out the negatives floating about.
Obama could also touch on wedge issues like gun control and others to drum up the voting base. But the big issue is Obamacare, whose failings may even bring a loss of the Senate to Republicans in November.
"This is not about politics," White House press secretary Jay Carney told ABC's "This Week" when asked about the likelihood of a loss. "So the answer is, it is absolutely worth it, no matter what happens politically. I just disagree that Republicans are going to have a winning issue on this if they decide to run on it, because they've got to explain what repeal means."
But the president will likely send a signal to the troops that things will be better if they hold fast.
"He basically wants to buck up his own Democratic caucus in Congress and say 'we've suffered some setbacks. ... We're not going to have any more major mistakes. Wait a little bit longer and we are going to be in really good shape within a year from now,'" said Tom Whalen, political historian at Boston University.
© Copyright IBTimes 2023. All rights reserved.