5 Moments You Missed On 'DOOL,' 'Y&R' And 'B&B' This Week
The January cold has nothing on the hot drama that is unfolding ahead of February Sweeps on "Days of Our Lives," "The Young and the Restless" and "The Bold and the Beautiful."
Barely a moment went by where something stunning didn't happen in Salem, Genoa City or Los Angeles this week. In case you missed a minute of the intense declarations, jaw-dropping confessions or unexpected decisions, here are the five biggest moments that happened during the week of Jan. 21.
"Days of Our Lives" (NBC)
Chad Makes A Big Sacrifice For Abigail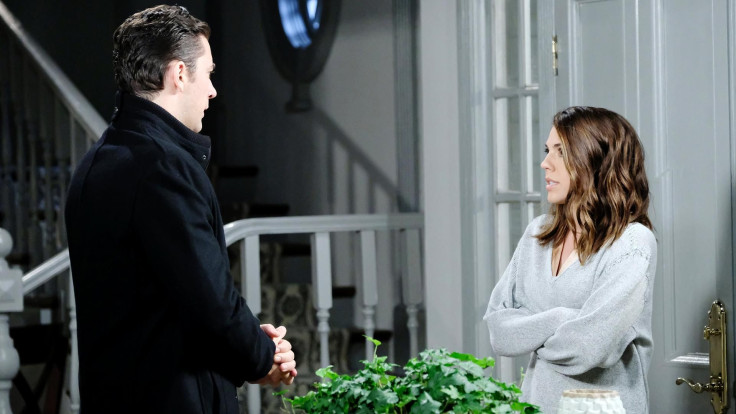 After Stefan's (Tyler Christopher) return when espionage charges against him fell through, the battle was on between him and Chad (Billy Flynn) to be the CEO of DiMera. The brothers were stunned however when the company's board decided that should work together as co-CEOs, something neither one is keen on. Knowing that being CEO would mean he still lives in the family mansion with Stefan and therefore gives up everything he has with Abigail (Kate Mansi) and their kids, Chad told her he would resign from the company and give it all up because he can't be without his family. Now, the ball is in her court when it comes to their ability to have a future together.
"Young And The Restless" (CBS)
Phyllis Makes A Confession
After the reappearance of the fire poker used to kill JT (Thad Luckinbill) forced Nikki (Melody Thomas Scott) to confide in Nick (Joshua Morrow) with the truth about his death, he became determined to figure out who was framing Victor (Eric Braden) for the crime. As they discussed the evidence though, Nikki realized that Phyllis (Gina Tognoni) never actually got rid of the murder weapon when they worked to cover up the crime, something she has since admitted to. However, she still swears she isn't the one trying to set Victor up—meaning the guessing game about who else knows the truth about the murder is still going on.
Arturo Shocks Abby
They've faced some challenges since his ex/ sister-in-law Mia (Noemi Gonzalez) arrived in Genoa City, but Arturo (Jason Canela) has become determined to prove he's devoted to a future with Abby (Melissa Ordway). As a result, he shocked her and everyone else at the end of Mia and Rey's (Jordi Villasousa) vow renewal by proposing. After she accepted, Mia made it clear to him that she thinks he's trying to prove a point to her, potentially setting off a new struggle for the entire Rosales family.
"Bold And The Beautiful" (CBS)
Reese Makes An Admission
He's been working to ensure that Steffy (Jacqueline MacInnes Wood) adopts the baby he and his co-conspirator Flo (Katrina Bowden) are passing off as hers. However, when Flo threatened to not continue going through with the scam unless he told her the truth, Reese (Wayne Brady) made a shocking confession. The baby is none other than Beth, the little girl Hope (Annika Noelle) gave birth to on Catalina Island—though she is under the impression her baby is dead.
Steffy Makes A Decision
Adding to the drama of the situation with the baby, Steffy has decided to go through with the adoption and is set on making the little girl Kelly's sister, named Phoebe in honor of her own deceased twin. She and Taylor (Hunter Tylo) have agreed to give Reese $250,000 in cash for the baby—and the adoption will be complete. Of course, Steffy has no idea that the little girl she is taking home is Kelly's real half-sister, and when that truth eventually comes out, it will change everything.
To see how these stories continue to play out next week, tune in to "Days of Our Lives," weekdays on NBC, "The Young and the Restless," weekdays at 12:30 p.m. EST on CBS, and "The Bold and the Beautiful," weekdays at 1:30 p.m. EST on CBS
© Copyright IBTimes 2023. All rights reserved.