50 Percent Of Water In China May Be Unsafe To Drink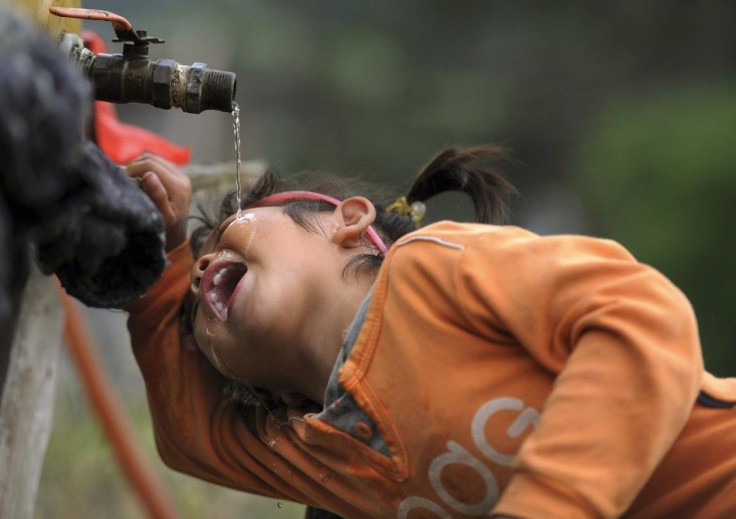 Just how bad is the water in China? As it turns out, the Chinese themselves may not even know for sure.
But if recent reports coming from some of China's news groups are correct, the water problem may be far worse than originally expected. Some reports are doubting the country's stated levels for water quality, saying water pollution may be much worse that what the government is officially saying.
Chinese water experts say that around 50 percent of the country's tap water may not meet national pollution standards and half of the country's water resources may be polluted.
Certain media reports and local news channels, not reflected by major national state media agencies, citing unnamed experts working in China's water industries, are skeptical of the government's claims of improving water quality.
Caixin Media's Century Weekly magazine, a widely acclaimed Chinese and English publication based in Beijing, called into question the government's own figures for water quality. Caixin reported on Monday that China's Ministry of Housing and Urban Rural Development confirmed that water quality in China had actually risen 25 percent in two years.
Shao Yisheng, the ministry's director of water quality, told Xinhua reporters that while only 58.2 percent of the country's 4,457 water treatment facilities met government standards in 2009, by 2011 83.4 percent of the water leaving treatment facilities met official standards. But other news reports claimed that the last time China did a comprehensive survey of the country's water infrastructure was in 2009, and that updated figures have not officially been released since then.
Song Lanhe, chief scientist at the ministry's water monitoring center, told Caixin English something completely opposed to what his own boss had said. Song said that since 2009, the situation has yet to improve.
Economic Information, a publication of Xinhua, asked for an 'an honest explanation' of China's water quality figures.
Water experts in China say that such an improvement over a short period of time is difficult to accept. The real state of the country's water quality and water infrastructure is much worse: it is far more likely that half percent of the country's drinking water is polluted.
Other Chinese water experts say that nearly all (98 percent) of the country's water filtration plants still use traditional methods, meaning they are unable to treat heavy metals and industrial pollutants: a critical issue in a country that now serves as a hub for the world's industrial manufacturing.
The complexity of water infrastructure also makes oversight and real improvement difficult. Even if water leaves new plants clean, contamination may occur again at second-stage holding reservoirs before being pumped into homes and offices.
Boiling water to kill micro-organisms is a common practice in China, but the process does not remove more resistant strains, chemicals, or metals.
Although water quality may be acceptable in downtown zones of major coastal cities like Beijing, Shanghai, Guangzhou, Shenzhen, Hangzhou, and Zhengzhou, tap water in most inland cities isn't safe.
Hangzhou Daily's Metropolitan Bulletin said that groundwater in China may have overly high levels of fluorine, arsenic, iron and manganese impurities and that half of the country's existing iron water piping is deficient. The Bulletin said that in the three years between 2000 and 2003, China's 184 cities had 4,232 incidents of secondary stage polluting in water holding tanks.
Last Thursday the municipal government of Beijing said that the city's tap water either met or surpassed national standards and was safe to drink.
That's small consolation for urban residents around the country now worried that water prices may soon be adjusted upward to further incentivize water conservation. But even as residents themselves economize on daily water use, heavy industries in China that are water-intensive -- such as coal mining, power generation, and steel and cement making -- are drawing away scarce resources and leaving behind industrial effluents.
The process is not only leaving certain regions water-poor, but also increasingly devastating the environment.
In late April, national media reported that a dozen Yangtze River porpoises uniquely endemic to China were found dead from sickness, starvation and pollution in southern Hunan province's Dongting Lake. Recent news about the endangered Yangtze porpoise elicited memories of when scientists pronounced the functional extinction of the Baiji Yantze River dolphin in 2006, citing pollution and loss of habitat along the heavily industrialized river.
China is now spending billions to divert water from southern areas of the country into the north. The South-North Water Transfer Project may eventually capture and divert flows from the Yangtze and Yellow Rivers as well as other rivers, helping to alleviate shortages in North China. But the $60 billion project is also meeting problems as much of the water being diverted is full of pollutants, coming from areas experiencing heavy industrial growth.
© Copyright IBTimes 2023. All rights reserved.