Amona Settlement Ordered Demolished By Supreme Court Of Israel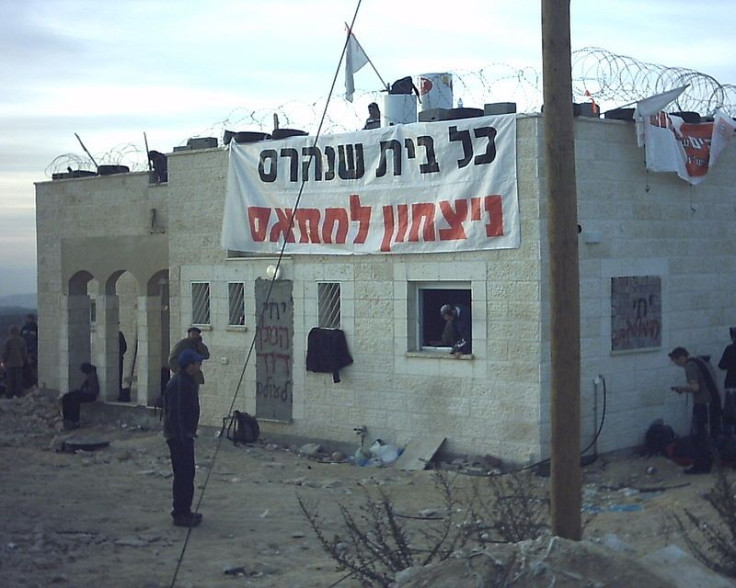 Israel's highest court ruled a Jewish settlement in the West Bank needs to be destroyed because it is sitting on private Palestinian land, setting a two-year deadline for completion of the demolition, the Associated Press reported Friday. The Amona settlement, about 30 miles north of Jerusalem, is among the oldest in the West Bank and was the site of clashes between residents and Israeli authorities in 2006.
Asher Grunis, president of the Supreme Court of Israel, said in the decision that the land is owned by the Palestinians who brought the court case. The dispute had been in the Israeli justice system for nearly three decades, and Israel had pledged to destroy it, but a full demolition was never completed. Jewish settlements have been a contentious issue for Palestinians, who want to create a state in the West Bank. About 50 families live in the settlement.
"Because the structures were built on private lands, it is impossible to authorize them, even retroactively," Grunis wrote, according to the Times of Israel. The decision also slammed the Israeli army for not protecting the Palestinians' rights and allowing settlers to build Amona. "The military commander is obligated to actively protect the property rights of residents, and in particular to protect them from illegal takeover of land and construction on it," he added.
Grunis said he was setting a two-year deadline so the current occupants would have ample time to find new housing.
"There is no doubt the consequences of the demolition orders will be difficult and painful for both the residents and their families, who settled down and created a community within the outpost," Grunis wrote. "But this difficulty is not sufficient to allow illegal construction on private land, and it does not justify lack of law enforcement."
Nine homes were demolished in Amona in 2006, which led to clashes among demonstrators, settlers and the Israeli authorities who were razing the homes, according to AP. Hundreds of pro-settlement protesters were injured in the clashes, the Israeli news site Arutz Sheva reported at the time.
© Copyright IBTimes 2023. All rights reserved.
FOLLOW MORE IBT NEWS ON THE BELOW CHANNELS