Analysis: Apple juggernaut to see more China gains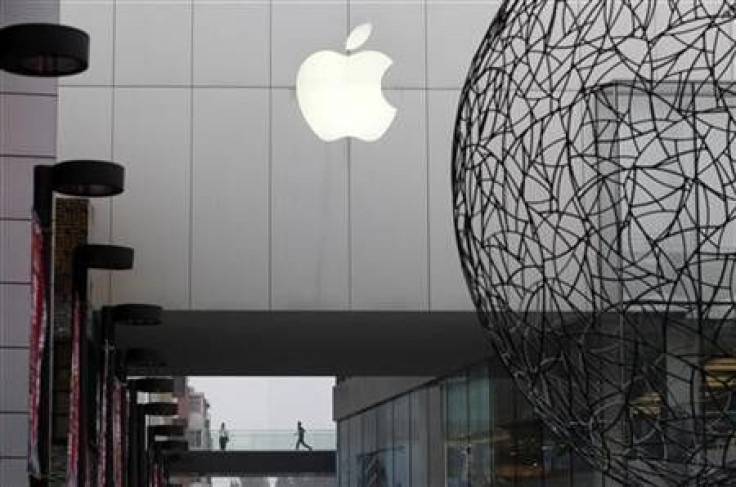 Apple (AAPL.O) is set to exponentially grow its China business as the country's No.1 and No.3 telecom operators jostle to stitch up deals to sell iPhones in the world's largest mobile phone market, home to more than 900 million subscribers.
China Unicom (0762.HK) is the sole operator offering Apple's sleek feature-filled smartphones but it is only a matter of time before No.1 operator China Mobile (0941.HK) and No.3 China Telecom (0729.HK) (CHL.N) -- follow suit, analysts said.
"The biggest winner will be Apple. While the operators may be forced to subsidize the iPhone to users, Apple will still get the price it wanted from all the operators no matter what," said Alex Chau, a senior research manager at research firm IDC Asia Pacific.
Apple's Chief Operating Officer Tim Cook said last week that the maker of the iPhone and iPad was merely "scratching the surface" in China. Smartphones still account for a fraction of the total market.
China's voracious appetite for all things Apple was on display last week when an American blogger living in Kunming, in the country's isolated southwest, unearthed an elaborate fake Apple store.
Asia Pacific -- which now accounts for about one-fifth of its total revenue -- and Greater China in particular, helped Apple's revenue surge 82 percent to $28.6 billion in April-June.
"We believe the success in China, and other emerging economies, has been fueled by iPhone growth," PiperJaffray analysts said in a note.
"Apple is succeeding with the iPhone in markets where they have not found great success with the Mac; moreover, we expect the company to extend this success with the iPad as the product line matures."
Though China has a massive growing mobile market, only 80 million are 3G users, with the rest low-end 2G subscribers who mainly own cellphones to make calls only. As of end-June, China had 907 million mobile phone users, bigger than the entire population of Europe.
Apple only has four stores in China, from where it sells iPhones and other products, besides selling through more than a hundred resellers, and China Unicom.
Chinese industrial and commercial authorities in Kunming have started to inspect all of the southwestern city's electronics shops after last week's media frenzy on the fake Apple stores, the official Xinhua news agency said on Saturday.
"China is a potentially huge market for Apple products like iPhones as more people are able to afford such high-end smartphones," Jane Wang, a Beijing-based analyst from UK research firm Ovum.
Morgan Stanley said in a report that Apple's China sales could exceed $9 billion in the year ending September 2012, up from just $2.9 billion in the previous fiscal year, as more Chinese snap up iPhones and iPads to play games, write weibo -- Chinese for microblogs, and make friends online.
Apple has about 9 percent of China's smartphone market, ranking behind Nokia (NOK1V.HE), China's Yulong and Samsung Electronics (005930.KS), Gartner said.
"BIG THREE" WRESTLE FOR 3G
Apple's iPhones sell at the higher end of the smartphones market compared to some models from Nokia and Samsung. Some lower-end smartphones are selling at less than half the price of an iPhone 4, which costs 4,999 yuan ($769).
China's telecom operators are stepping up efforts to sell iPhones, which will in turn help lift their margins and ARPU (average rate per user).
China Unicom signed a three-year contract with Apple in 2009. China Telecom is likely to be next, sources told Reuters this month.
China Mobile is expected take longer, only after it unveils its more advanced 4G LTE (long-term evolution) technology in late 2012 or early 2013. Analysts said Apple was unlikely to make an iPhone that supported China Mobile's current technology.
"Even though China Telecom is the smallest player in China, it still represents a significant number of subscribers," IDC's Chau said.
Even as 3G users grow with the launch of iPhones, that may not boost profits of telecoms operators significantly.
China Unicom is positioned as distributor and its contract with Apple is not based on a revenue-sharing deal, something which China Telecom and China Mobile hope to change.
"Apple will be pretty tough in negotiations and it will not give in that easily," said Gong Juntao, a telecoms analyst with CITIC Securities.
But even as Apple ramps up sales of iPhones in China, the market is still expected to be dominated by smartphones running on Google's (GOOG.O) Android operating system.
IDC expects Android phones to take half the market in 2015 as there are simply too more vendors pushing out Android phones covering all price categories.
© Copyright Thomson Reuters 2023. All rights reserved.