Are Cruise Ships Safe? Carnival Cruises' Triumphant Fall From Grace Raises The Question Of Whether Cruise Vacations Are Too Risky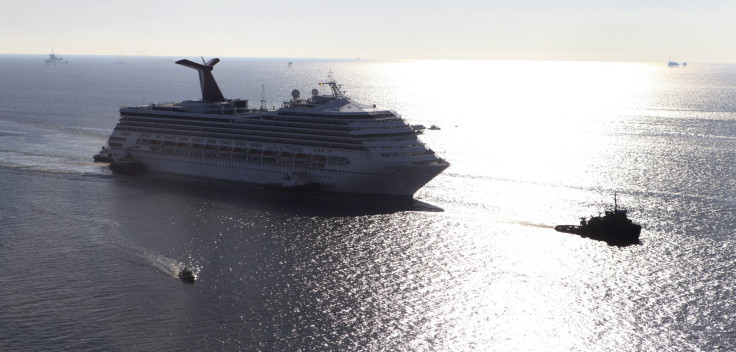 If you've watched the news lately, you know that Miami-based Carnival Corp. is in deep do-do, in part, because that's exactly what several of its customers had to wade through on a recent voyage.
Carnival Triumph captivated a global audience in February as it drifted through the Gulf of Mexico for five days carrying more than 4,000 passengers, many of whom complained of everything from food shortages to scorching tent villages and human excrement running down the ship's corridors.
Carnival said these accounts were exaggerated, but its troubles didn't stop there. Just this week, Carnival Triumph was docked in Mobile, Ala., for repairs, when strong winds tore the ship from its moorings, causing it to crash into a cargo ship. It drifted loose for a couple of hours before it was secured. A pier worker is reported missing.
Last month, Carnival Dream experienced "technical problems" with the ship's emergency diesel generator while docked at the Caribbean island of St. Maarten. More than 4,300 guests had to return to the U.S. mainland aboard private charters and commercial flights, and initial reports described a situation similar to the one on Triumph.
Carnival Legend and Carnival Elation also reported technical issues within a week of the incident on the Dream. These were relatively minor problems that would have otherwise gone unnoticed if they hadn't followed an unsettling trend. Carnival Triumph, after all, had a seemingly minor and largely unreported propulsion issue just two weeks prior to its major and much publicized engine room fire.
While there were no fatalities in any of these incidents, the reason they captured the public's imagination is clear: The people left wading through human excrement or baking under an unrelenting tropical sun were supposed to be having the times of their lives on a dream vacation. It's that dichotomy that turned these everyday accidents into perfect tragedies -- and the company responsible into the perfect villain.
But has the negative publicity actually hurt the industry? Not if you ask its largest trade association. Projections for the $36 billion industry from Cruise Lines International Association, or CLIA, are chronically rosy.
Roughly 20 million people took cruises last year, and CLIA forecasts a rise of 3.3 percent in 2013, or 20.9 million cruisers. According to CLIA, that makes cruising the fastest-growing segment of the $9.9 trillion global travel industry.
Indeed, since 2000, cruise companies have added 168 new ships to their fleets, and in the next two years, they'll add 25 more.
Looking at these figures, it's easy to think cruising is impervious to its latest troubles -- and it may just be. But the Carnival incidents expose the industry and threaten to rock the boat.
How Safe Is Cruising?
When all is said and done, it's safety that remains the largest issue dogging Carnival and others at the moment.
The cruise industry often falls back on its mantra that it's "the safest mode of transportation," but Dr. Ross Klein, who has testified before Congress numerous times on cruise-related issues and is the author of four books, including Cruise Ship Blues: The Underside of the Cruise Ship Industry, said that's based on a study done in the 1990s that compared a cruise ship with airplanes and automobiles with regard to deaths and serious injuries.
"It didn't measure critical issues beyond these, so the industry's insistence to extrapolate from this study is misleading and disingenuous," he noted. "The fact is that while deaths from accidents on cruise ships are not common, I don't think one can say cruise ships are safe -- certainly not as safe as they'd like people to think."
Not including the Costa Concordia tragedy last January, which left 32 dead off the coast of Italy, Klein calculated on his Cruise Junkie website that in 2012 there were 96 incidents onboard cruise ships. These included 20 fires, 14 collisions, 5 power failures, 5 propulsion problems, 8 mechanical issues and 4 maneuverability problems.
According to Klein's figures, in the first three months of 2013 alone there were already 21 incidents, including three fires, one collision, one loss of power, eight propulsion problems and one maneuverability problem.
"The numbers speak for themselves," he said.
Klein also worries about several issues that don't make the news, like underpaid and overworked staff or environmental concerns. These are all things he and other critics have complained about to the U.S. Government for years. But few have listened until now.
'The Wild West Of The Travel Industry'
Two weeks ago, Senator Charles Schumer, D-N.Y., proposed that cruise operators voluntarily adopt a "Cruise Ship Passenger Bill of Rights" to ensure ships, even when they're registered in foreign countries, have sanitary conditions, functioning backup power and adequately trained medical staff at all times. The bill would also give passengers the right to disembark if the cruise can't provide adequate provisions, the right to a full refund for a trip that's abruptly canceled due to mechanical failures, and the right to real-time information updates as to any adjustments in the travel plan.
"Cruise ships, in large part operating outside the bounds of United States enforcement, have become the Wild West of the travel industry, and it's time to rein them in before anyone else gets hurt," Schumer said. "This bill of rights, based on work we've done with the airline industry, will ensure that passengers aren't forced to live in Third World conditions or put their lives at risk when they go on vacation."
Because cruise ships often use "flags of convenience," they're primarily regulated by countries other than the U.S., and Schumer said these, and the existing global standards under the International Maritime Organization, or IMO, clearly aren't working.
Indeed, of all travel industries operating into, out of or within the United States, cruising is easily the least regulated.
Once a ship travels beyond 200 miles from the U.S. coast, it's ostensibly regulated by the IMO and its flag country. IMO doesn't have the authority to enforce its own guidelines, nor is it able to impose fines or sanctions on cruise lines that defy Safety of Life at Sea recommendations. Such obligations fall to the flag states and are rarely enforced.
"Companies register their ships where the costs are lowest and the oversight and requirements are the least," Klein explained. "This directly impacts labor issues. A flag of convenience also impacts whether a ship is subject to the laws of the countries it visits or operates out of and also affects financial liability to passengers and crew."
The current business model began as early as the 1920s, and the majority of today's ships are registered in the Bahamas, Bermuda or Panama. For a while, many Carnival, Royal Caribbean and Celebrity ships flew under the Liberian flag.
By doing so, ship owners found they could skirt increasing regulations and rising labor costs, while avoiding paying federal taxes to the nations out of which the ships actually operate.
Sen. Jay Rockefeller, D-W.Va., penned a letter to Carnival CEO Micky Arison on March 14 alleging that the Coast Guard had responded to 90 "serious events" involving Carnival ships over the past five years. The incidents on Carnival Triumph and Carnival Splendor (2010) alone, he noted, cost the Coast Guard and Navy $4.2 million.
"These costs must ultimately be borne by federal taxpayers. Given that you reportedly pay little or nothing in federal taxes, do you intend to reimburse the Coast Guard and Navy for the cost of responding to either the Carnival Splendor marine casualty or the Carnival Triumph marine casualty," Sen. Rockefeller questioned.
A letter from Carnival Corp. to Sen. Rockefeller dated March 29 said, in a nutshell, no.
The letter, first made public by Seatrade Insider, revealed that the cruise line has absolutely no intent to reimburse the Coast Guard and Navy for its assistance, or any future problems where it may require help from the U.S. government.
"Carnival's policy is to honor maritime tradition that holds that the duty to render assistance at sea to those in need is a universal obligation of the entire maritime community," James Hunn, Carnival's senior vice president of corporate maritime policy, wrote.
Hunn said that only seven of the 90 events Rockefeller cited in his letter amounted to "serious maritime incidents" under the Code of Federal Regulations. He added that the cruise industry generated more than $40 billion in economic impact and 350,000 jobs in the U.S. during 2011.
"The cruise industry's contribution to the American economy in the form of various taxes and job creating," he said, "assists in payment of federal services that are provided."
Troubled Waters Ahead
Last year after the Costa Concordia disaster, everyone in the industry rushed out to say, "No impact" or "Everything is great," but later in the year it was clear that it wasn't.
The mass-market companies have relied on steep discounting to keep cabins full while shifting to a Ryanair-like model, adding fees and increasing current charges for extras. The luxury lines, meanwhile, have offered everything in the kitchen sink rather than dropping fares.
The reality is these cheap prices and free add-ons have kept the industry afloat.
"I think the industry is doing OK right now," said Carolyn Spencer Brown, editor in chief of industry-watcher Cruise Critic. "But we won't know the fiscal impact until later this year. People who are cruising now booked their trips before and couldn't cancel."
The problems do appear to be weighing in on Carnival Corp.'s bottom line. The cruise giant previously forecast as much as $2.40 a share, but said last month it now expects earnings won't exceed $2.10 this year.
The company reported 2.3 million passengers in the first three months of 2013 (ending Feb. 28), compared to 2.26 million in 2012, however occupancy was down by 1 percentage point. Carnival Corp. added that, despite deep discounts, advanced bookings for 2013 were behind the same point this time last year, though it did not specify by how much.
"Passengers that have cruised before don't seem to be worried about the problems, though they may not be riding Carnival right now. It's a big factor for people considering their first cruise," Spencer Brown said. "Our core readers are demanding answers. Too many things have gone wrong to pawn it off on bad luck."
The fact that Carnival Corp. has been at the heart of the drama makes sense up to a point. With 100 ships under a variety of brands like Costa, Cunard, Holland America, Princess and Seabourn, odds are stacked in its favor. But these same issues haven't happened with such frequency on any non-Carnival cruise line, making it hard to chalk it up to coincidence.
"When things go wrong, things go wrong. It's how the company handles the situation that matters. You show how you're going to fix it and you're upfront about it," Spencer Brown said. "What we've seen with Carnival -- and with Carnival's Costa brand before -- is that the company has been very defensive."
Allen Adamson, a managing director in New York for branding firm Landor Associates, agrees.
"There's no doubt consumer confidence in the brand is being tested," he said. "In addition to making brand ambassadors out of those passengers that experienced the ordeals, Carnival's management must institute tangible changes to their safety and contingency plans and procedures and make them visible. They should make communicating the changes part of their long-term brand strategy."
Adamson said that when an entire industry is built on the mechanical functions of its key product, and those malfunction, consumers begin to question everyone.
Carnival Cruises President and CEO Gerry Cahill announced last month at an industry meeting in Miami that the company was in the midst of a "comprehensive review" of its 23 ships to look at the prevention, detection and suppression of fires, engine room redundancies, and which facilities might be provided and run off of the emergency generators. He called the review Carnival's "highest priority."
The industry as a whole, too, implemented 10 sweeping changes in the 12 months after the eye-opening Costa Concordia tragedy. Moreover, thousands of ships have sailed the open ocean without incident this past year.
But critics worry that we'll see a lot more Carnival Triumphs adrift at sea if underlying issues within the industry aren't addressed soon.
In the end, however, the ones with the real oversight of the cruise industry aren't in the U.S. They're in Panama, Bermuda and the Bahamas.
© Copyright IBTimes 2023. All rights reserved.