Barack Obama Final Press Conference Live Stream: Watch President Address Nation For Last Time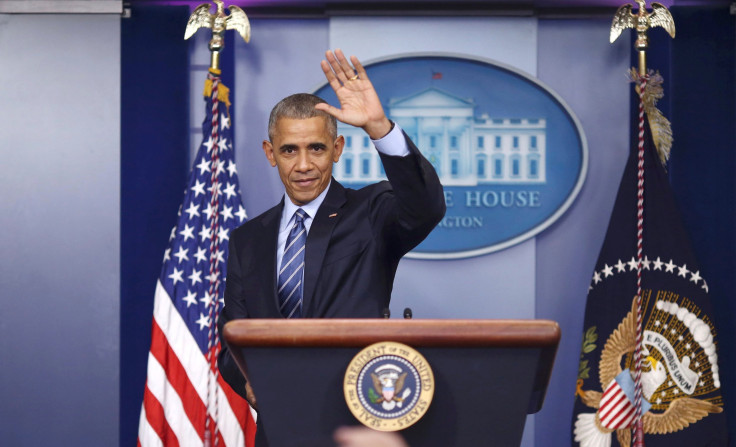 President Barack Obama will hold his final presidential press conference Wednesday in Washington, addressing the nation for the last time before his successor, President-elect Donald Trump takes over Friday.
Obama's press conference comes one day after announcing he would commute and pardon over 200 incarcerated individuals, including pro-Puerto Rican independence militant Oscar Loper Rivera, whose group was accused of orchestrating dozens of bombings in New York City throughout the 1970s, and Chelsea Manning, a former soldier who leaked classified military information to the public regarding Washington's wars in the Middle East. Manning's leaks helped give birth to WikiLeaks, a whistleblower organization founded by Australian journalist Julian Assange and dedicated to exposing government secrets. While always controversial, the site has been a particularly frequent point of discussion in national politics since it released thousands of private emails belonging to Democratic Party officials last year and was accused by intelligence officials of attempting to influence the election on behalf of Republican Donald Trump via hackers in Moscow. Obama joined Republican and Democratic government officials alike in condemning what he concluded were orchestrated attacks on his political ally and former Democratic presidential nominee Hillary Clinton, for whom he campaigned.
You can watch a live stream of the press conference here. It is scheduled to start at at 2:15 p.m. EST.
Despite the political animosity between the departing and arriving presidents, Obama is expected to welcome Trump and his family into the White House. Obama and first lady Michelle Obama were reportedly scheduled to fly to Palm Springs, California for holiday after Wednesday's events and will later return to Washington, where they have rented a house as their youngest daughter, Sasha, finished school.
Obama, who was first elected in 2008 and again in 2012, was the 44th president and the first African-American president in the nation's history. He leaves office Friday with a 58 percent approval rating, according to a Gallup poll released Monday. Among Obama's notable historic achievements are his efforts to normalize relations with Cold War foe Cuba and negotiating a landmark multilateral nuclear deal with Iran in 2015. In an interview last April with Fox News, Obama said the "worst mistake" of his presidency was intervening in Libya on behalf of anti-government forces without a plan for what would happen when longtime leader Muammar Gadhafi fell in 2011. Various political and tribal factions claiming to be the nation's legitimate successor government remain at war today.
At the final press briefing of his administration Tuesday, Obama reportedly surprised White House Press Secretary Josh Earnest. Earnest, who became the president's spokesperson in 2014, had finished discussing his career with the administration when Obama entered and took the microphone, praising Earnest's tenure with the press.
© Copyright IBTimes 2023. All rights reserved.
FOLLOW MORE IBT NEWS ON THE BELOW CHANNELS