Belfast Riots 2013: 32 Injured After Orange Order Clashes With Police, Photos From The Riots [PHOTOS]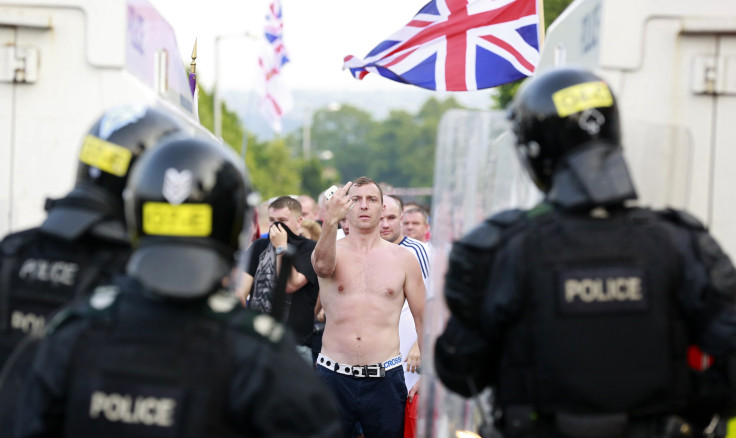 Thirty-two police officers, a senior lawmaker and at least eight protesters were left wounded after mass riots took place in Belfast, Ireland, on Saturday.
According to Northern Ireland's police commander, Chief Constable Matt Baggott, as cited by the Associated Press, hundreds of police reinforcements from Britain were deployed on the streets of Belfast after Protestant riots over a blocked march took place in two different areas of the city. Baggott blamed leaders of the Orange Order brotherhood, an anti-Catholic fraternity whose annual July 12 marches always raise tensions with the Irish Catholic minority.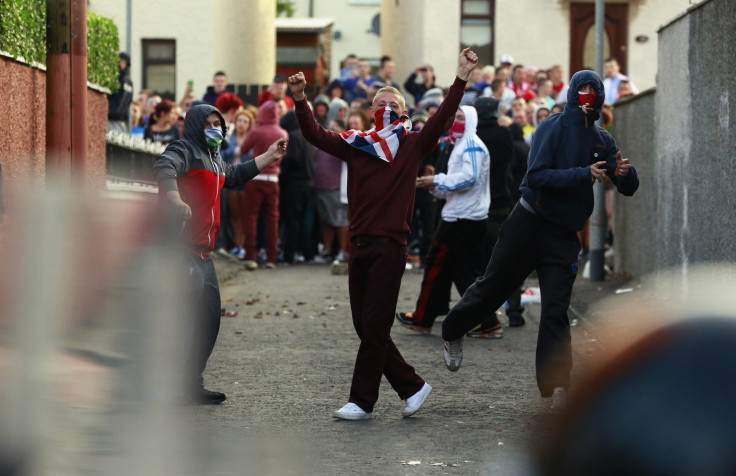 The riots were reportedly provoked after British authorities ordered Orangemen to avoid the stretch of road nearest Ardoyne. Police enforced the order by blocking their parade route with seven armored vehicles. The move was taken by the Orangemen as a challenge and subsequently triggered attacks on heavily armored officers and their vehicles. The Northern Ireland Ambulance Service said it bussed eight wounded civilians from the riots, while others were seen taking themselves to and from hospitals. In addition, leading Protestant politician Nigel Dodds was taken to hospital after being hit on the head with a brick.
Dodds, a member of the Democratic Unionist Party (DUP), was knocked unconcious as he tried to urge the rioters to calm down. He was discharged from hospital early on Saturday.
Northern Ireland First Minister Peter Robinson, the DUP leader who shares power in the government with the Catholic Sinn Fein, urged "cool heads to prevail at this time".
"Violence is undermining a just cause and runs totally against the wishes of the Orange Order for protest to be entirely peaceful," he said in a statement.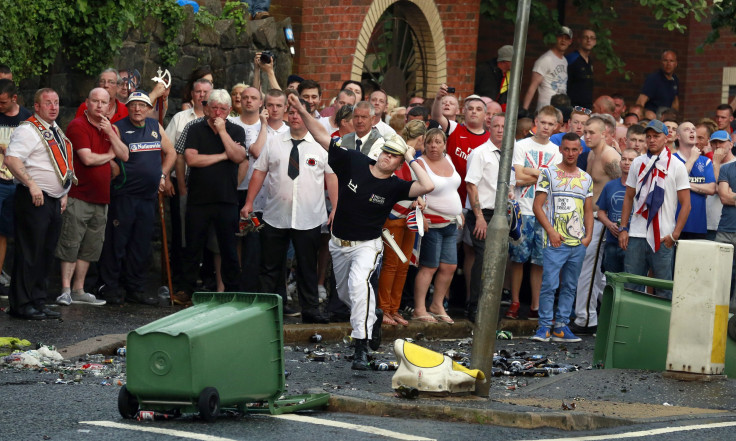 The July 12 parade marks the victory of Protestant King William III of Orange over the deposed Catholic King James II at the Battle of the Boyne in 1690.
It is a breaking point for tensions between the Protestant and Catholic communities in the British-ruled province, which was overcome by three decades of sectarian violence in the 1970s, 1980s and 1990s.
In 1998 the Good Friday Agreement, for the most part, brought an end to the unrest, known as The Troubles, although sporadic violence, including bomb threats, continue.
© Copyright IBTimes 2023. All rights reserved.