Best Commuter Electric Scooter For Adults: SmooSat MAX Electric Scooter
* This is a contributed article. The IBTimes news staff was not involved in the creation of this article and this content does not necessarily represent the views of IBTimes. When you buy through links on our site, we may earn an affiliate commission. Here are our
T&C
. For licensing please
click
here.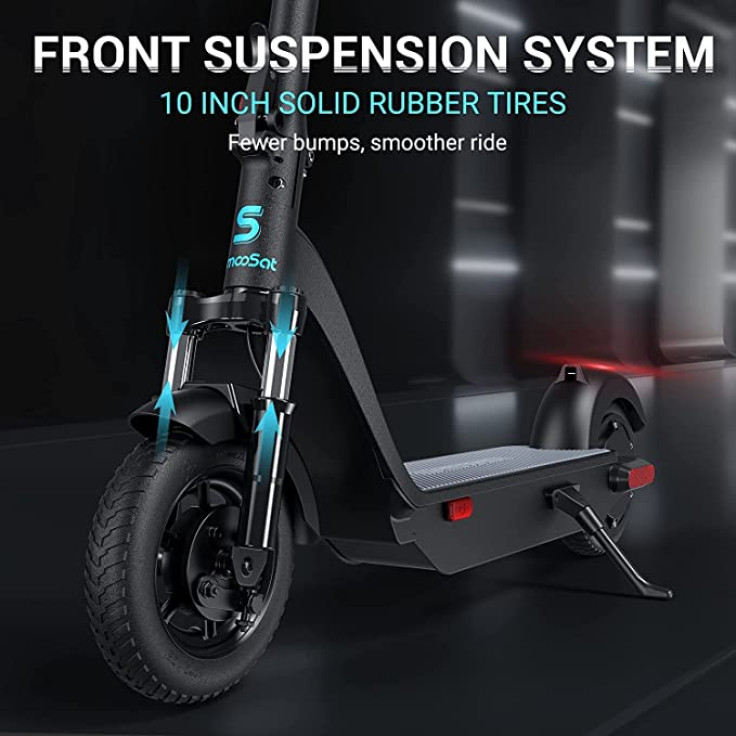 The daily commute can be boring and sometimes even mind-numbing. But not when you try something different while heading to school or work. SmooSat MAX, one of the newest commuter electric scooters for adults today, offers a vehicle option for everyday commutes made more fun and interesting.
Here, we reviewed the features of the SmooSat MAX as a commuter electric scooter for adults.
Great Price
At $599.99, the SmooSat MAX one reliable scooter that gives top speed and comfortable, safe rides. It can ride up hills and steep driveways just as it can navigate mellower daily routes. This micro-mobility vehicle can be a great companion for adults who commute daily. With its brakes, speed adjustments and lights, the scooter is built to handle extreme loads and provide a comfortable ride.
Powerful Brushless Motor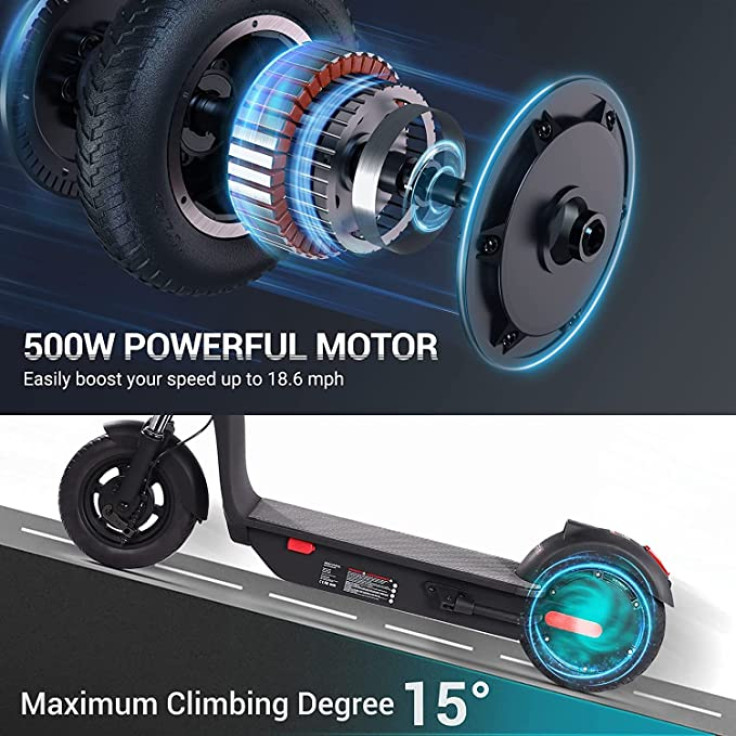 For anyone who is after a scooter with excellent performance, the SmooSat MAX scooter is a great option. It has a brushless 500W motor that conveniently lifts to a top speed of 18.6 mph on a 15° hill, even with a maximum weight load of 264 pounds — making it a better option than the 350W scooters out there.
Upgraded Battery Life
The scooter is also equipped with a 12Ah automotive-grade Li-ion battery responsible for its 30-mile range when fully charged. This ride range is the best from SmooSat, with most of its other scooters ranging from approximately 20-28 miles. It also requires less frequent charging and has a battery life of eight years.
Comfortable And Safe Rides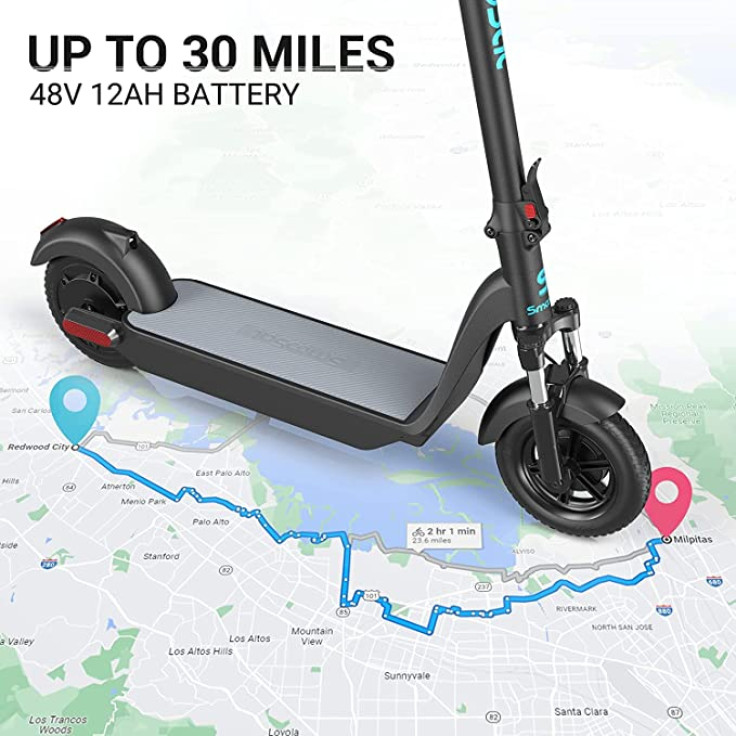 Whether you are a bit of an adrenaline junkie on the road or simply one that needs a steady and humble ride to school or work, the SmooSat MAX can be very handy. It has 10-inch foam-filled solid tires and a front dual-shock suspension system for excellent shock absorption. These features allow for a smooth and painless glide over speed bumps and even on uneven terrains. Riders can enjoy a safe and almost effortless commute no matter how bumpy the road may be.
Aside from giving its rider a more relaxed commute, the foam-filled solid tires make the SmooSat Max electric scooter a practical choice. There is no need to worry about and spend on tire inflation and maintenance.
The MAX scooter has ergonomically designed handles, providing hand comfort on long trips. It also has a 6.7-inch wide anti-slip pedal with a slip-resistant surface.
Easy Control
In terms of convenience of use, the MAX scooter comes with a SmooSat App that lets the rider connect to their ride via Bluetooth. The app enables the owner to lock and unlock the scooter, adjust and choose from three-speed modes and turn on/off the built-in LED headlights. It also saves information such as ride history. The app is handy and user-friendly; exploring its features to get the most out of the scooter's excellent functionalities is the best way to go.
The vehicle has Cruise Control, a smart feature activated with a single click or pressing the on/off button five times. This option lets your MAX scooter automatically activate its intelligent riding mode, minimizing the tension and fatigue of the rider's hand control.
One-Step Folding Design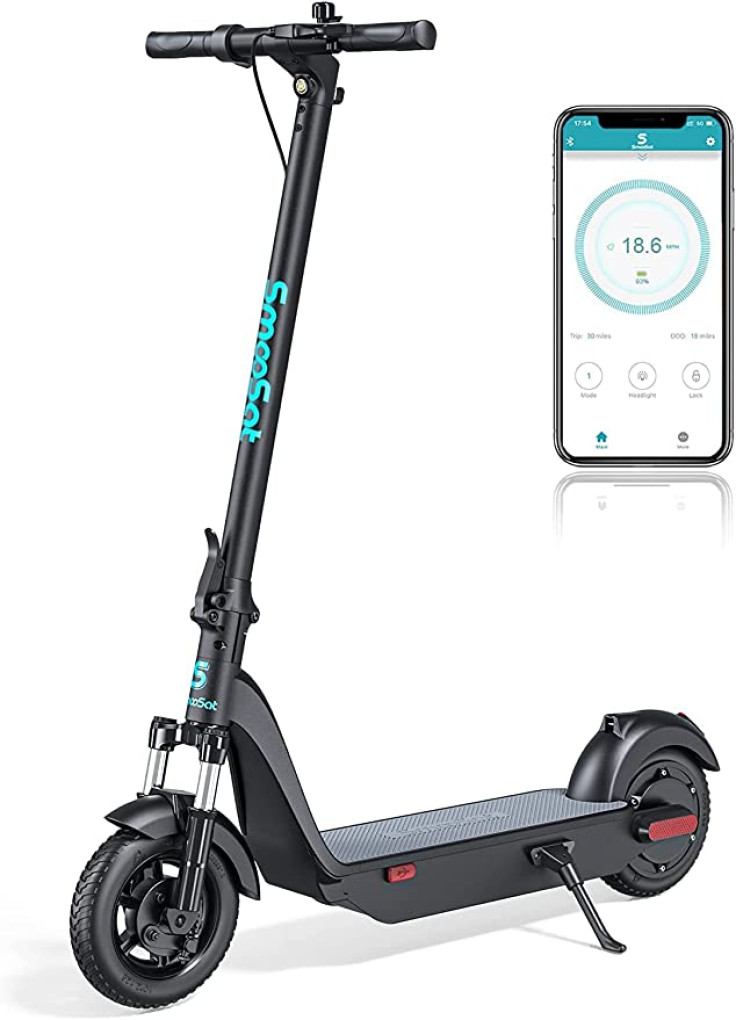 The SmooSat MAX electric scooter has a one-step folding design that allows you to fold it in just three seconds. When folded, it measures only 41.3 in x 17.3 in x 19.7 in. This makes it easy to transport and store when not in use. It takes almost zero effort to fold and tuck it snugly in the trunk or one corner.
At 42.54 pounds in weight, it may be heavier than most lightweight electric scooter units, but this should not come as a surprise when you look into its impressive weight load capacity and other excellent features that come with it.
Confident Purchase
All MAX scooter units are covered by SmooSat's 180-day warranty. As you get the most out of your handy vehicle, you can contact the company's friendly customer service for any concern with your purchase. Part of the company's goal of providing buyers with an excellent shopping experience is helping their customers post-sales — one thing many brands and sellers overlook.
While the SmooSat MAX commuter electric scooter for adults is new in the market, with its first release in October 2022, its sleek finish has already captured the attention of commuters looking for a comfortable ride.
With all its features, the SmooSat MAX electric scooter is a wise buy at $599.99 for adult users. As the brand puts it, it is more than just a commuting tool or a fun toy you would love to play with for a while; it is a reliable companion as you journey through life.
Learn more about this reliable and quality electric scooter here.
© Copyright IBTimes 2022. All rights reserved.
FOLLOW MORE IBT NEWS ON THE BELOW CHANNELS