Black Lives Matter On Christmas: Why Do African-Americans Celebrate 'White Supremacy' Holiday?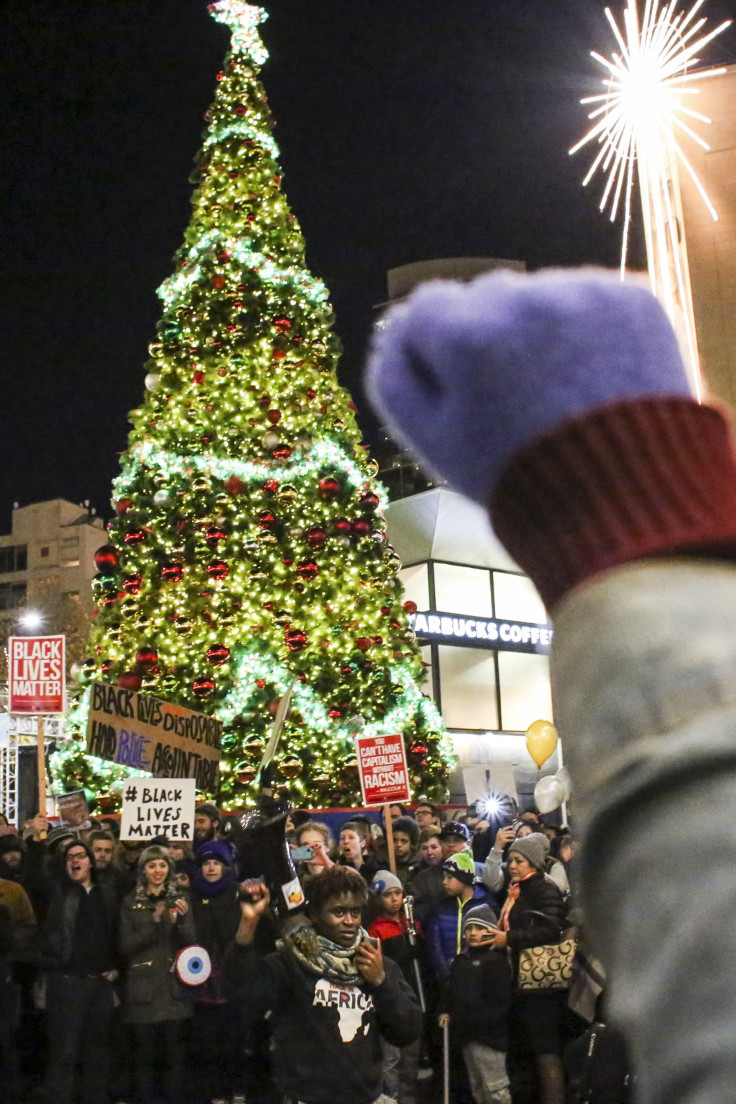 As many fortunate Americans look back on their holiday weekends with dismay over their tryptophan Turkey hangovers and uptick in their monthly credit card statements, the Black Lives Matter chapter in Atlanta was wondering why black people celebrate Christmas at all. The group referred to Christmas as a corporate holiday rather than a religious one.
Black Lives Matter in Atlanta took to Twitter Sunday to raise the question: Since white people do not celebrate black holidays, why are black people so willing to celebrate Christmas? Black Lives Matter has said the holiday is predominately white, Heat Street reported.
The tweet proved highly controversial, with many pointing out Christmas was a Christian holiday. Others angrily commented the Black Lives Matter group was a "disgrace."
"I don't know maybe because they can do whatever the hell they want and no stupid ass Twitter account can stop them," tweeted one user in the response section.
Black Lives Matter responded: "Christmas is a corporate holiday that does nothing but generate millions of dollars for white businesses powered by white supremacy."
Melina Abdullah, a Black Lives Matter representative in Los Angeles, previously told the International Business Times in a phone interview the social justice group considered President-elect Donald Trump and his recent Cabinet picks to be the embodiment of "white supremacist capitalism" in the U.S. She said the group planned on combating Trump during the next four years of his presidency by urging members to " start shopping at black-owned small businesses that also provide service to the communities like independent black bookstores."
"We are encouraging people to be intentional about their wallets and telling them maybe we don't need to just spend, spend, spend, and we invest in building black communities that are doing work to make our communities actually safe and happy," Abdullah said.
Black Lives Matter organized a demonstration forcing stores to close at the Mall of America in Bloomington, Minnesota, two days before Christmas last year to protest police brutality against black Americans. Jason Sole, the criminal justice reform chair of the Minneapolis NAACP, told the Los Angeles Times the protest was held at the mall "to impact them [white America] where it hurt."
"When you're thinking about tearing down white supremacy, you got to go to the places that'll be hurt or crippled by a loss of funds," Sole said. He was referring to the Nov. 16, 2015, police killing of unarmed black man Jamal Clarke, who was still in handcuffs when he was fatally shot. He added: "We're not anti-Christmas, we're not anti-police. We're anti-police brutality. ... Jamar, he won't be around a Christmas tree this year."
Approximately 40 percent of those queried in the U.S. said they supported Black Lives Matter while about 30 percent of those who knew about the group admitted they didn't know its ultimate goals, according to a Pew Research Center survey conducted Feb. 29-May 8.
© Copyright IBTimes 2023. All rights reserved.
FOLLOW MORE IBT NEWS ON THE BELOW CHANNELS