Brazil Skirts Organizational Disaster With The Most Expensive World Cup Ever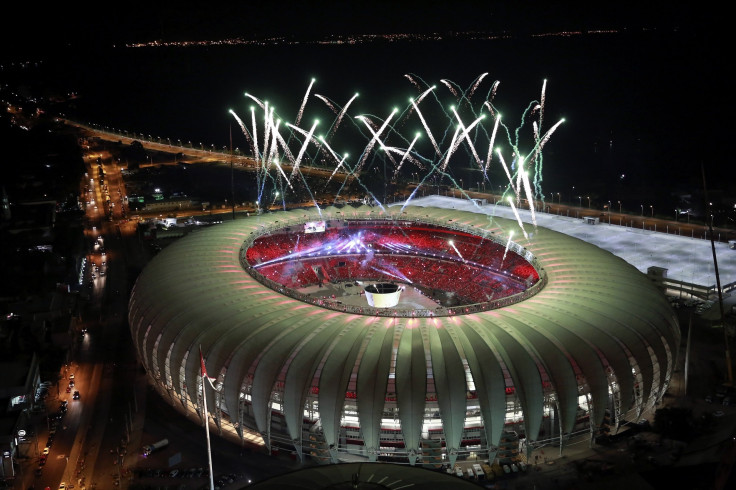 MEXICO CITY -- When it comes to soccer, Brazil is a country of superlatives. Its fabled national team, whose skills with the ball are proverbial, has won the most World Cups, appeared in more finals than anybody else, and is the only squad to have qualified for every tournament since the competition began in 1930. But, as this year's host, Brazil may add the ignominious distinction of being the worst organizer of a World Cup in history.
Sepp Blatter, who heads world soccer as the president of the Fédération Internationale of Football Associations (FIFA), said in January 2014 that Brazil was further behind than any host he has had to deal with in his four decades at the organization.
The country risks showing up for the opening ceremony in two months without the necessary infrastructure being ready. "Now we face the last stage, which is to deliver the minimum necessary to have a nice event. The big dream is now reduced to the basics, to maintain the country's image," Paulo Resende, a professor at the Fundação Dom Cabral business school in Nova Lima, told the Associated Press.
That is a huge disappointment, not least because the 2014 World Cup, from June 12 to July 13, also holds the record as the most expensive ever, at an estimated $11 billion.
When the announcement was made in 2007 that Brazil would organize the 2014 tournament, the reaction was ecstatic, with fireworks in major cities and even a giant yellow soccer jersey, the national team's colors, unfurled next to the world-famous Sugar Loaf Mountain in Rio de Janeiro.
"Organizing the World Cup is a huge task and we have a lot of responsibility weighing on our shoulders," said then-President Luiz Inácio Lula da Silva at the announcement ceremony. "We will organize a great World Cup."
Never mind the decrepit state of most Brazilian stadiums, or the staggering inequality, or the rampant crime: At the time, Brazil's economy was booming, almost reaching double-digit growth in 2010. Brazil became the seventh-largest economy in the world, the biggest in Latin America. And it was willing and able to use this success in the service of the country's national obsession, futebol.
Fast forward to 2014. The Brazilian economy has slowed down, barely avoiding recession in 2013. Last year Brazil even saw the first mass protest in its history, with people demanding less public money for soccer and more funds for health care and education.
As of March 2014, Brazil has already spent more than $7 billion to update facilities including stadiums and hospitality establishments. This number is four times what South Africa had spent for its World Cup at the same time four years ago, and it nearly doubles the total cost of the 2010 tournament, which added up to $4 billion.
In the case of Germany for the games of 2006, the investment was significantly lower, due to the better state of its facilities and the robustness of pre-financial crisis German economy: $1.6 billion of public spending, plus an extra $800 million donated by private investors.
According to official estimates by the Brazilian government, total spending will reach $11 billion, including a billion donated by FIFA. This includes $3.5 billion for the renovation of 12 stadiums, of which three still need work.
The Arena Corinthians stadium in São Paulo, which will host the opening game on June 12, was supposed to be finished in December. However, it still looks half-finished, with construction constantly delayed. The cities of Curitiba and Cuiabá almost lost their status as host cities, because they were jarringly behind schedule in the construction of the Arena da Baixada and Arena Pantanal stadiums.
The remaining $7.5 billion was to be spent on 56 infrastructure projects, including airports and subway lines in several cities. Of these, only seven have been completed. Most have been canceled.
The problem was timing. Victor Matheson, a sports economist in Worcester, Mass., considered they started too late: "What was important gets pushed off, what's urgent gets done."
None of the 12 host cities, from the Amazon city of Manaus to the metropolis of São Paulo, Brazil's biggest, has seen the government's promises fulfilled. In Salvador de Bahia, construction of a planned subway system was handed over to a private company halfway through, and work will not be completed until after the tournament is over. A new runway was proposed for the World Cup at Rio de Janeiro's Galeão International Airport, but now it is unclear if it will be finished even in time for the 2016 Olympic Games.
This is a far cry from the excitement and the promises of 2007. "The world is going to see a modern and innovative nation," former Minister Orlando Silva wrote in a 2011 in newspaper Folha de São Paulo. "We are working to organize the best Cup in history, the country can count on it."
"This was part of the euphoria phase, which is long gone," said professor Resende.
President Lula promised back in 2007 that no public funds would be used to prepare for the World Cup, but the Brazilian Development Bank predicted that by July the country will have incurred $3.5 billion in cup-related debt.
The fiasco might have even made a dent in Brazil's previously unshakeable passion for soccer: Polls show that now only 48 percent of Brazilians support hosting the event, plummeting from 79 percent a year after the country was selected.
President Dilma Rousseff is still keeping up appearances, assuring her country that the tournament will be "the cup of cups," as she has been repeatedly saying since the beginning of this year.
The overspending is not unusual, in fact. When South Africa was awarded the 2010 tournament, Johannesburg-based consultancy firm Grant Thornton predicted costs would be just $300 million. That amount did not even cover the cost of rebuilding Soccer City, the stadium where the opening and final game took place.
Host countries routinely justify these costs by saying they will be gained back through earnings from tourism and foreign investment, even though history has shown time and again that predictions for revenue always aim too high.
The South African government predicted the country would earn $6 billion from the Cup; Grant Thornton forecast a $2.5 billion boost to the country's GDP. However, both where mid- to long-term projections based on a series of unpredictable variables. In 2012, the government said that it could not put a number on the tournament's economic impact on the country. Independent analysts calculate that four years after the event, the African country has only managed to claw back one-fourth of its investment of $4 billion.
Brazil has fallen into the same trap of overestimating the economic effect of the World Cup. In 2010, the government was predicting an extra million tourists in 2014 for the World Cup; two years later, the forecast had fallen to 700,000. And now, according to José Wagner Ferreira, president of the Academia Brasileira de Eventos (Brazilian Event Association), the latest estimate says that only 300,000 more tourists than normal will go to Brazil during the World Cup. Hotels in the cities are not expected to fill up during June and July. "São Paulo will be only at 60 percent of its capacity," Ferreira said.
Dennis Coates, professor of economics at the University of Maryland, said that tourism does not increase dramatically with big events like the World Cup. In 2006, for example, revenues from World Cup tourism in Germany were only $70 million greater than the previous year. In Korea, which co-hosted the 2002 World Cup with Japan, the number of tourists was pretty much identical to that of 2001.
According to Coates, that is because while host countries can expect an influx of soccer fans, regular tourists tend to avoid them during that time, fearing crowds and high prices.
Another group of frequent travelers that will stay home in June and July is businesspeople, pointed out Enrique Cueto, vice president of South America's biggest airline, LATAM Airlines Group SA (NYSE:LFL). "If you look at bookings for the dates of the World Cup, most companies are making their employees stay put," he said.
LATAM as well as Colombia's Avianca (NYSE:AVH) and Argentinian flag carrier Aerolíneas Argentinas all decided to add extra flights to Sao Paulo and Rio de Janeiro during the World Cup. However, judging by bookings so far, many of those flights might end up losing money.
"I don't know who is going to win the World Cup, but airlines definitely aren't," Cueto said.
The Brazilian Events Association Ferreira agrees. "Every place that hosts an event the size of the World Cup sees business trips declining. No company in their right mind is going to organize a meeting or a conference during those dates," he said.
The Agência Nacional de Aviação Civil (Brazilian National Civil Aviation Agency) predicted that in 2014 the Brazilian air transport industry will see profits grow between 6.5 percent and 7.5 percent, a far cry from the 23.5 percent recorded in 2010 and more in line with the numbers of 2012, when Brazil's economy barely escaped recession.
However, the country might actually see a slight economic benefit, albeit limited. Rating agency Moody's predicts that Brazil will see a modestly profitable impact in hospitality, advertising and television.
An industry that is expected to benefit, if slightly, from the World Cup is consumer electronics, particularly the sales of TV equipment. Lourival Kiçula, president of the Brazilian electronics manufacturers association Eletros, expects a record-breaking year in sales.
"In 2010, during the last World Cup, we sold 12 million TV sets, a historical record," he said to Spanish newspaper El País, adding that the following three years saw sales stabilize around 14 million. "This year we expect to reach 16 million sets sold," he said. The prediction coincides with a forecast of a 14 percent to 16 percent spike in sales from Christian Aliaga, a Peru-based executive with Korea's Daewoo Electronics.
Altamiro Carvalho, an analyst from the Federação do Comércio do Estado de São Paulo (Commerce Federation of São Paulo), a business lobby, is more cautious. "Last year sales of electronics were good because we had incentives from the government and the Confederations Cup, this year we only have the World Cup," he said.
Carvalho predicted a 3 percent growth in the sales of electronics, "if unemployment does not go up," he said.
In any case, when July 13 comes and the winner has already taken the cup home -- and it might well be Brazil, the odds-on favorite -- the country will be left to deal with its current problems. Inflation hit 6.3 percent in January, higher than anticipated. Unemployment is on the rise, reaching the highest point in six months in February at 5.1 percent.
Then, a lot more public money for sporting events will have to be spent soon. That's the $15 billion that the government says it will take to get ready for the Rio de Janeiro Olympics in 2016.
© Copyright IBTimes 2023. All rights reserved.