California governor launches tax ballot measure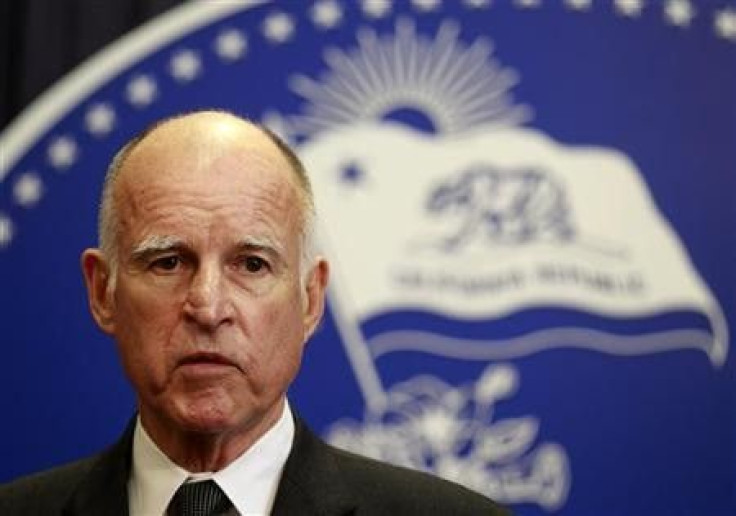 With California once again running short on revenue, Governor Jerry Brown said on Monday he would circumvent the legislature and press a statewide ballot measure to raise the state's sales tax and increase tax rates on the wealthy for five years.
Revenue from the increases will be needed to prevent deeper cuts in spending by the government of the most populous U.S. state, Brown said in an open letter to Californians made available through his Twitter account.
Like most other states, California has suffered sagging revenue in recent years due to recession and the effects on its economy from the housing collapse, mortgage crisis and volatile financial markets.
The stark truth is that without new tax revenues, we will have no other choice but to make deeper and more damaging cuts to schools, universities, public safety and our courts, Brown said.
That is why I am filing today an initiative with the Attorney General's office that would generate nearly $7 billion in dedicated funding to protect education and public safety, Brown said. I am going directly to the voters because I don't want to get bogged down in partisan gridlock as happened this year. The stakes are too high.
Brown and fellow Democrats who control the legislature failed to win Republican votes to forward a tax measure to voters earlier this year and approved a state budget on their own that relied on deep spending cuts, some fees and the expectation of a $4 billion revenue surge to close a roughly $10 billion shortfall to balance the state's budget.
The expected revenue is not coming in according to their plan and now California's leaders face the prospect of more spending cuts. They also face another multibillion dollar budget gap for the fiscal year beginning next July.
Brown and Democrats do not have the two-thirds vote of lawmakers required to pass tax increases through the legislature. But with the financial support and manpower of California's labor movement, especially its pubic employees' unions, they may be able to win a simple majority of votes on the November 2012 ballot needed to enact tax increases.
Brown's administration had been conferring last week with lawmakers and union allies on a tax measure designed not only to appeal to voters and combat California's entrenched anti-tax activists, but also designed to discourage others from trying to qualify rival tax measures from the ballot.
Brown said his measure would propose an income tax increase on the wealthy -- of up to 2 percent on millionaires and other high-income earners -- along with an increase of one-half of one cent to the state sales tax.
This initiative dedicates funding only to education and public safety -- not on other programs that we simply cannot afford, he said.
The legislature's top Democrats immediately issued statements backing the measure, which Republicans criticized.
© Copyright Thomson Reuters 2023. All rights reserved.