Caucus Live Updates 2016: Results From Washington, DC, Wyoming, Guam And Northern Mariana Islands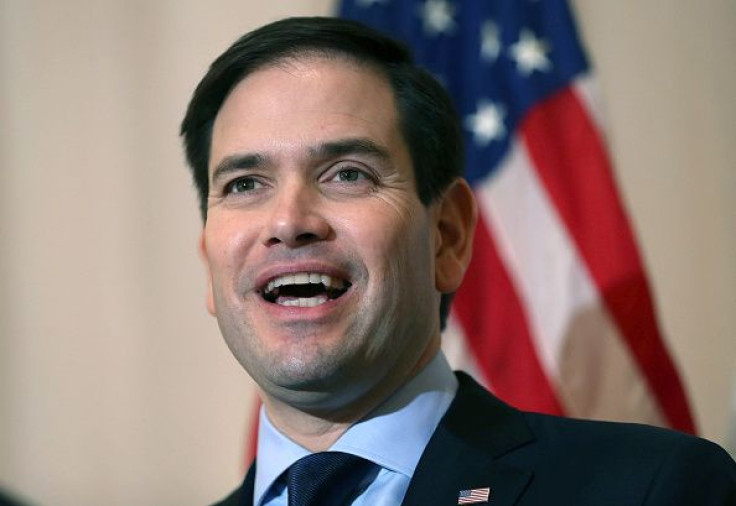 UPDATE: 10:20 p.m. EST -- U.S. Sen. Marco Rubio of Florida won the Republican primary in Washington, D.C., on Saturday, garnering 37.3 percent of the vote, the Washington Post reported. John Kasich was second with 35.5 percent, while Donald Trump finished with 13.7 percent and U.S. Sen. Ted Cruz with 12.3 percent.
UPDATE: 10:12 p.m. EST -- Former House Speaker John Boehner, an Ohio Republican, has endorsed Ohio Gov. John Kasich for president just days ahead of the state's primary election, the Hill reported.
"He's my friend," Boehner reportedly told an audience in Butler County, according to the report.
UPDATE: 9:17 p.m. EST -- Donald Trump said he is going to ask law enforcement officials to arrest protesters at his rallies, the Associated Press reported. He said that fear of an "arrest mark" on people's records might deter them from coming to the rallies.
UPDATE: 8:26 p.m. EST -- U.S. Sen. Ted Cruz of Texas has won most of the delegates at stake at Republican caucuses in Wyoming, the Associated Press has reported.
Cruz took more than 66 percent of the vote, while Florida Sen. Marco Rubio and New York businessman Donald Trump got 19.5 percent and 7.2 percent, respectively. Ohio Gov. John Kasich received 0 percent, according to a New York Times results report.
UPDATE: 8:13 p.m. EST -- During a televised rally in Kansas City, Missouri, on Saturday night, Donald Trump claimed the man who attempted to attack him in Ohio earlier in the day was possibly connected with the Islamic State group.
UPDATE: 8:12 p.m. EST -- Republican Party Chairman Reince Priebus urged both parties to help calm tensions after violence that has broken out at Trump rallies in recent days, the Hill reported.
"While we have differences, our right to free speech should be just that: speech," Priebus said in a statement. "Violence is never the answer. Violence only begets more violence. Leaders and activists in both parties bear a responsibility to ensure that the discourse we engage in promotes the best of America."
UPDATE: 7:41 p.m. EST -- Numerous protesters were removed from Donald Trump's rally in Kansas City, Missouri, on Saturday evening, just a day after the Republican front-runner was forced to cancel his Chicago rally because of civil unrest and violence.
At the Kansas City rally, protesters held up signs showing support for Democratic hopeful Bernie Sanders and others that said "Deport Racism," referring to Trump's conservative immigration policies and accusations that his campaign has been fueled by racist rhetoric.
In response, Trump's supporters chanted "U-S-A!, U-S-A!, U-S-A!" as the New York-businessman was interrupted several times, saying, "Get out of here!" and "Get 'em out!" every few minutes, as protesters were removed by security.
UPDATE: 7 p.m. EST -- Five superdelegates on the tiny North Mariana Islands in the Pacific Ocean decided Saturday to put their support behind Democratic front-runner Hillary Clinton. Until Saturday only one of the super delegates has supported Clinton, with the rest undecided.
Superdelegates are party officials who can back any candidate they wish.
The small group of islands, not far from Guam, awarded four delegates to Clinton and two to Sen. Bernie Sanders in caucus results Saturday.
UPDATE: 6:10 p.m. EST -- Another video has emerged in Saturday's incident at a Trump rally in Ohio. The new video shows a broader view and catches a glimpse of the suspect who was taken into custody.
UPDATE: 4:24 p.m. EST — As votes continue to come in from the Republican contests in Wyoming and Washington, D.C., Republican and Democratic presidential candidates were exchanging sharp words and accusations Saturday.
After Republican front-runner Donald Trump accused the Democratic candidates of sending supporters to protest at a campaign event in Chicago on Friday evening, Vermont Sen. Bernie Sanders responded with harsh words.
"As is the case virtually every day, Donald Trump is showing the American people that he is a pathological liar," Sanders said, the Los Angeles Times reported. "Obviously, while I appreciate that we had supporters at Trump's rally in Chicago, our campaign did not organize the protests."
Trump has picked up one delegate in Wyoming, where Texas Sen. Ted Cruz continues to lead with three delegates.
UPDATE: 3:40 p.m. EST — U.S. Sen. Ted Cruz of Texas picked up another delegate at Wyoming's Republican presidential-nomination caucus Saturday, bringing his total to three. In the early going, Cruz is followed by U.S. Sen. Marco Rubio of Florida and businessman Donald Trump.
Rubio beat Cruz in Albany County to pick up his first delegate from Wyoming, the Associated Press reported. GOP members in the state will choose another 14 delegates next month.
UPDATE: 2:55 p.m. EST — Republican voters in the nation's capital were enduring long lines before casting their ballots at the Loews Madison Hotel.
Voting will end at 9 p.m. EST. The District of Columbia sends 19 delegates to the GOP convention, the same number as Hawaii. If one candidate manages to win more than 50 percent of the vote, he will take all of the delegates. If none of them do, the delegates will be allocated proportionally.
UPDATE: 2:30 p.m. EST — Cruz's campaigning in Wyoming has begun paying off, as he has taken an early lead at the state's Republican caucus. The senator from Texas picked up two delegates out of a possible 12 as counties started reporting their results, the Associated Press said.
In the early going, Cruz had 64.3 percent of the vote, followed by Rubio, who had 28 percent. Trump, the front-runner in the GOP presidential-nomination race, was in third place with 7.7 percent, the New York Times reported.
Cruz was the only Republican presidential candidate to have campaigned in the Cowboy State ahead of the vote Saturday.
Both Cruz and Trump were on the campaign trail Saturday, with the Texas politician making a campaign stop in Missouri and the New York businessman making two in Ohio. Trump went after Democratic presidential candidates, blaming them for unrest at an event he canceled in Chicago on Friday evening.
UPDATE: 12:29 p.m. EST — Directing comments at Trump, U.S. President Barack Obama said leaders need to speak out against violence. "If they refuse to do that, they're not worthy of our vote," Obama said while speaking at a fundraiser in Texas on Saturday.
The president made the remarks on the heels of violence at Trump's campaign rallies. While the GOP candidate was speaking to supporters in Ohio on Saturday, security personnel surrounded him after an audience member attempted to rush the stage.
Democratic presidential candidate Hillary Clinton also weighed in on recent events, saying Trump encourages "violence and aggression," AP reported. The former U.S. secretary of state urged voters to stand up to "this tide of bullying and bigotry and blustering that is going on in our political strategy."
UPDATE: 11:58 a.m. EST — After postponing a campaign rally in Chicago on Friday because of demonstrators, Trump called the incident a "planned attack."
"They were pouring into the arena," Trump told a crowd in Dayton, Ohio, on Saturday, ABC News reported. "All of a sudden, a planned attack just came out of nowhere."
Trump said the protest appeared professional, and he accused supporters of Democratic candidate Bernie Sanders of participating, saying the U.S. senator from Vermont should "really get up and say to his people, 'Stop.'"
UPDATE: 10:45 a.m. EST — With Cruz picking up a delegate in Guam and support for Trump expected in Wyoming, Rubio hesitated when asked Saturday whether he would support Trump in the event the businessman became the GOP presidential nominee.
"I don't know," Politico quoted Rubio as replying. "I already talked about the fact that I think Hillary Clinton would be terrible for this country, but the fact that you're even asking me that question ... I still at this moment intend to support the Republican nominee, but ... it's getting harder every day."
Rubio and the three other remaining GOP candidates all promised in early March they would support the party's nominee. Floridians will vote in their state primary election Tuesday, which could be a make-or-break moment for Rubio.
Original story:
The weekend means no rest for Republican and Democratic presidential candidates with caucuses in Wyoming, Washington, Guam and the Northern Mariana Islands on Saturday.
Former U.S. Secretary of State Hillary Clinton paced the Northern Mariana Islands Democratic caucus as she picked up four delegates, while rival U.S. Sen. Bernie Sanders of Vermont won two delegates, ABC News reported. Four superdelegates there have still not pledged their support to a candidate.
The GOP caucus will be held in the commonwealth islands about 5,800 miles from the California coast Tuesday. Like the residents of Puerto Rico, the 50,000 residents of the Northern Mariana Islands do not vote in the general election in November.
About 130 miles from the Northern Mariana Islands, residents of Guam will send six delegates to the Republican convention that will be held in Cleveland in July. The GOP caucus in Guam does not result in a binding preference poll, CNN reported. The island has nine delegates, with U.S. Sen. Ted Cruz of Texas picking up one delegate so far, CNN reported. Like residents of its neighboring territory, residents of Guam also do not vote in the general election.
Later in the day, results of Republican votes in Washington and Wyoming will be reported. Voting in the nation's capital will conclude at 9 p.m. EST after an extension was added for Jewish voters who observe the Sabbath. Nineteen delegates, the same number at stake in Hawaii, will be awarded in Washington. With no polls conducted among the capital's 27,000 registered GOP members, it's unclear how they will vote, as the Associated Press reported.
Demonstrators have gathered in the capital with "Dump Trump" signs, referring to Donald Trump, the front-runner in the Republican presidential-nomination race. Protests against the businessman have also taken place in Chicago, with violence reported at his rallies in recent days.
The vote in Wyoming is the second part of the Republican process in the state, with 12 out of 26 delegates selected.
Check back for updates throughout the day.
© Copyright IBTimes 2023. All rights reserved.