Child Marriage Should Be Legal: Pakistani Legal Advisory Body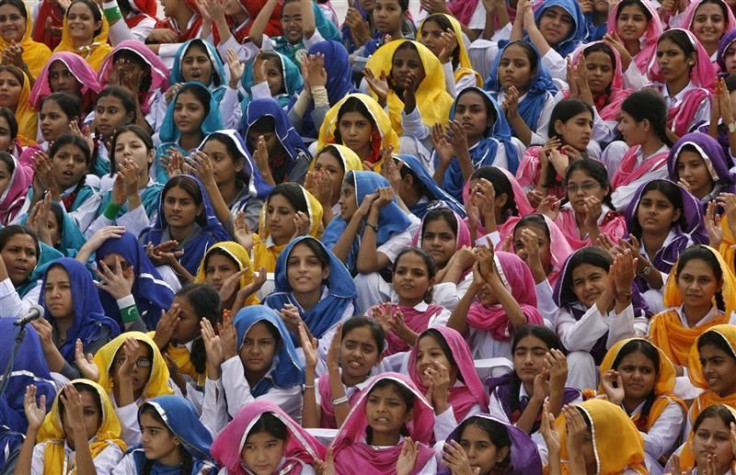 The Council of Islamic Ideology (CII), a constitutional recommendatory body that provides legal advice to the Pakistani government and parliament, ruled on Tuesday that laws which ban underage children from getting married are "un-Islamic." The CII also determined that according to Islam there is no minimum age for marriage – although it deems that Rukshati (the consummation of marriage) should only occur when both husband and wife have reached puberty. Pakistani laws presently mandate that the minimum age for marriage is 18 years for a male and 16 for a female. CII, as an advisory body, cannot enact laws on its own.
Dawn, an English-language Pakistani daily, reported that the CII chairman, Maulana Mohammad Khan Sheerani, also blasted laws forbidding polygamy. "Sharia [Islamic law] allows men to have more than one wife, and we demanded that the government should amend the law," he told reporters. "The government should amend the law to make the issue of more than one marriage easy and in accordance with Sharia," CII added. Under current Pakistani laws, a man must obtain written approval from his wife (or wives) in order to acquire another wife. Sheerani, who is himself a member of the National Assembly for the Jamiat Ulama-e-Islam (F) (JUI-F), a conservative religious party, has asked the government to formulate laws on marriage and divorce that are compliant with Sharia.
Child marriage is prevalent across South Asia and some other parts of the world. One of the consequences of such early nuptials is a high rate of infant mortality arising from girls getting married young and having early and frequent pregnancies. Indeed, according to researchers at the University of California, San Diego, School of Medicine, one in 14 births to youthful mothers (defined as being under 18) lead to the death of the child within the first year of life in Bangladesh, India, Nepal and Pakistan.
Anita Raj, Ph.D., professor of medicine and director of the Center on Gender Equity and Health at UC San Diego, one of the researchers of the study, also noted that short intervals between pregnancies (defined as less than 24 months) account for about one-fourth of the infant mortality rate in India and Pakistan. This translated into 200,000 baby deaths last year alone. South Asia has some of the highest infant mortality rates in the world – United Nations data reveals that Pakistan records about 71 deaths per 1,000 live births, India, 53, Bangladesh, 49 and Nepal, 39. In stark contrast, the infant mortality rate in the United States came in at 6.81 and in Singapore, the figure is only 1.92, the lowest rate in the world. For the world as whole, 49.4 deaths are recorded per 1,000 live births.
The given data suggests that the problem in Pakistan is significantly worse that in neighboring countries. "A major reason you see worse infant mortality rates -- and worse maternal mortality rates -- in Pakistan relative to India, Bangladesh and Nepal is lower reproductive and maternal health care coverage for women there," Raj said in an interview. "Also, Pakistan has lower rates of exclusive breastfeeding, which increases risk for infant mortality. Exclusive breastfeeding refers to providing only breast milk to the baby for six months. This reduces risk for things like diarrhea from bacteria in water."
The overriding factor to all this alarming data is the prevalence of child marriage in South Asia, which presents a grave public health concern, for both mother and baby. Child brides are themselves highly susceptible to early deaths or serious health problems. They also tend to find themselves trapped in poverty and illiteracy. Raj and her colleagues revealed last year in another study that more than 10 million girls under the age of 19 get married every year – nearly one-half of them in India and Pakistan.
© Copyright IBTimes 2023. All rights reserved.