China Unveils Anti-Corruption App, Asks Public To Upload Pictures Of Corrupt Officials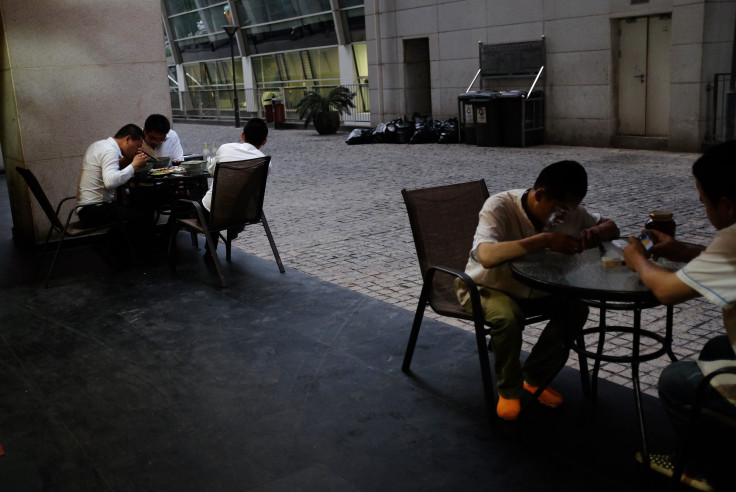 SHANGHAI -- China's top anti-corruption watchdog has launched a new app, which allows members of the public to upload pictures or other evidence of officials misusing public funds or vehicles, or breaking Communist Party rules on lavish entertainment. The move -- which comes amid a deepening crackdown on corruption that officials have said is vital for the survival of the party -- appears designed to convince citizens that the system is taking their concerns seriously.
The Central Commission for Discipline Inspection (CCDI), as the party's anti-corruption body is known, announced on its website that members of the public just had to install the app on their smartphones to anonymously upload pictures, videos or text denouncing what the Communist Party calls the 'four decadent tendencies' -- discipline violations including "hedonism and extravagance."
It said the "One-click anti-four tendencies app" targets cases of officials misusing public funds for eating and drinking, expensive entertainment or leisure activities, or going on holidays in China or abroad. Other violations targeted include the misuse of public vehicles for private purposes, as well as handing out funds, benefits or gifts in violation of party rules, and organizing lavish weddings, parties or funerals.
The CCDI said it was setting up the new platform ahead of this weekend's Dragon Boat Festival holiday, as such vacations usually saw an upsurge in abuses. And it said the app, which allows the public to write messages of up to 432 words and add two attachments (photo or video) up to a maximum size of 5MB each, was a "simple, convenient, and direct platform for supervision" of corruption, which would "bring together the wisdom and power of the masses, to create a ubiquitous web of scrutiny" and "strike fear" into violators.
The targeted behavior, particularly lavish spending on entertainment, and misuse of official vehicles, has aroused much public anger in a society where many people are struggling to make ends meet. The official Xinhua news agency quoted CCDI staff as saying that the new app was a sign that the organization was now making such behavior a focus of its efforts. While the Party has detained a growing number of high-profile corrupt officials -- known as "tigers" -- in recent years, many people feel that the choice of targets has often been selective, and some citizens are more concerned about the impact that more junior corrupt officials at the local level -- known as "flies" -- have on their everyday lives.
The announcement of the new app, therefore, seems designed both to win public support, and to help the authorities communicate with a younger generation of web users. Xinhua hinted as much, saying that the app would increase scrutiny of abuses and corruption taking place "close beside the people," and would also help to transmit what it called "the CCDI's relentlessly resolute determination" to tackle the 'four decadent tendencies' to the rest of society, and send out a "powerful signal that anyone who violates discipline rules will pay the price."
The CCDI, and governments at all levels, have frequently said they welcome public 'scrutiny' of corrupt officials. However there has long been some public skepticism about the sincerity of such requests. Anti-corruption activists who have denounced officials have complained of harassment by local officials and police -- one Guangzhou activist who has frequently posted photos of officials misusing government cars for leisure activities and trips has said police have repeatedly threatened him, and recently claimed to have been set up by police after being detained for soliciting a prostitute.
Analysts said the new app could make a difference, however, if it genuinely allowed citizens to bypass local officials in passing on their grievances to central anti-corruption authorities. Some analysts say central officials genuinely want to know about cases of local corruption, if only so they can prevent the spread of local grievances, which could undermine the rule of the party nationally.
And the CCDI may be aware that disciplinary officials themselves are not immune to becoming victims of local protectionism: one disciplinary inspection official from a town in the northeastern province of Heilongjiang is reported to have been murdered earlier this year, after he traveled to Beijing to report collusion between local party leaders and real estate companies over land appropriation. Five people have now been arrested.
The move may also be aimed at showing officials that the authorities are getting serious about tackling abuses. While the party says more than 100,000 people have been punished for disciplinary violations over the past two years, many have received relatively minor disciplinary punishments, rather than facing criminal proceedings.
And some members of the public seemed to welcome the new app: commenters on Shanghai news website The Paper expressed "respect" for President Xi Jinping and his anti-corruption czar Wang Qishan for the move; one said Wang was a great man; others said the app was a great idea, which would allow everyone to fight corruption -- and would reassure anti-corruption activists that they were not alone. One reader even took the opportunity to post about a lawsuit his family had brought against a local government in a case relating to land appropriation by the authorities.
Some users, however, were more cynical: one said he would not allow anyone to bring mobile phones to dinner in future -- while several asked whether the CCDI had enough staff, or enough time, to catch all the corrupt officials who would be denounced via the app.
Others questioned whether the rules would really be implemented or cases investigated, and expressed doubts as to whether the identities of people using the app would truly be protected, saying they feared officials would take revenge if they denounced them (as has frequently happened in the past when people have denounced officials through more traditional channels such as government petition offices). Others doubted whether a "video no larger than 5 MB" could be clear or useful, while another asked simply, "Does democracy and the rule of law rely on gimmicks like this?"
And one Internet user complained that the app appeared only to be aimed at catching lowly "flies" rather than top-level "tigers." Nevertheless, in a reminder of why the authorities see the anti-corruption campaign as a way to win public support, another replied that "the flies hurt our direct interests – and the public can now see hope."
FOR FREE to continue reading
✔️ Unlock the full content of International Business Times UK for free
offer available for a limited time only
✔️ Easily manage your Newsletters subscriptions and save your favourite articles
✔️ No payment method required
Already have an account?
Log in
© Copyright IBTimes 2023. All rights reserved.