China's Housing Market Bubble: Home Ownership Elusive For Young Buyers And Renters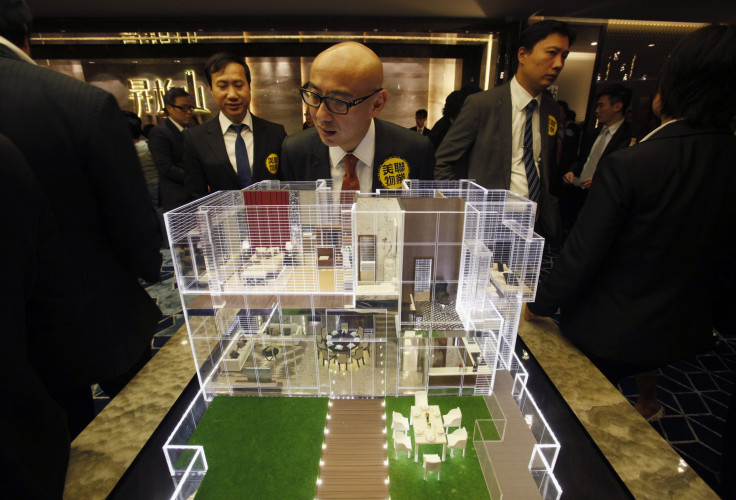 BEIJING -- Shen Lu, a 24-year-old recent college graduate, has just found a new home. The apartment she shares with three other people is in one of dozens of identical high-rise buildings, each about 20 stories tall, old and dilapidated compared with the newly erected glass-and-steel residential towers rising on the city's skyline. The paint on the cement blue and white buildings is chipped, the entryways are run down and graffitied, the hallways are dimly lit and cold.
An unfurnished living room opens into her bedroom, which has just enough space to fit a full-size bed, a closet and a desk. Still, the apartment complex is well-situated in the center of the city, near malls, a movie theater, grocery stores and two subway lines. All this for 2,360 yuan a month, roughly $377, excluding utilities. This may not seem like much when compared with prices in American or European cities, but Shen's rent accounts for about one-half her salary, not uncommon for renters in Beijing.
Breakneck economic growth in China's megacities has driven housing prices to record highs, and has made finding an affordable home difficult for millions of young people who don't come from wealthy backgrounds. In Beijing, the average price per square meter in residential real estate has tripled since 2000.
According to 2013 data compiled by the International Monetary Fund, five of China's so-called tier-1 cities ranked among the priciest in the world when compared with the income of locals. Beijing's price-to-wage ratio, which compares median housing prices with median disposable income, showed the largest disparity compared with other global metropolises.
C.Y. Xu, a 25-year-old Beijing resident, says that for people looking to rent or buy a place in one of China's top-tier cities, the mantra is, "You won't like the ones you can afford; you can't afford the ones you like."
China's leadership is pressing for an economic model that swaps high-speed growth for a slower pace, accompanied by greater equality and improved environmental conditions. That scenario, often called the "New Normal," would result in an intentional slowdown in various markets, including real estate.
Housing prices have begun to drop slowly as a result of government-imposed measures, which included raising down-payment requirements on new purchases and imposing property taxes for the first time in Shanghai and Chongqing.
But for now, young urban Chinese professionals such as Xu are still priced out. Those housing prices mean that life choices have to be put on hold.
The People's Daily, the Chinese Communist Party's mouthpiece newspaper, has dubbed Xu's cohort the "Do Not Buy generation." A study by the University of International Business and Economics in Beijing found that less than 25 percent of college-educated, employed professionals aged 34 and under were homeowners. The Chinese-language paper attributed this to the "progressive" lifestyles of China's younger generation.
In an attempt to dress up numbers that describe bleak real-estate prospects for anyone in his or her 20s, the article cited a survey by the Chinese Academy of Social Sciences that found people born in 1990 or later don't want to be tied down to a single city -- or a mortgage -- and would rather spend their money traveling the world or the rest of the country. If given a sum of money equivalent to a housing down payment, more than one-half of those surveyed said they would prefer to "do something more fulfilling" than buy a house, find a mate and raise a family.
That's not entirely party spin: Chinese millennials really are choosing to spend more of their money on "enriching" experiences such as fine dining or traveling the world. Chinese people are also marrying later, meaning that home ownership in preparation for marriage is also likely being postponed.
But while these shifts are part of the picture, the larger reality is that most young people simply can't afford to buy a home.
As in many cultures, purchasing a home is a rite of passage for young adults in China, and one in a series of milestones that families expect: a stable job, a home, a spouse and kids. According to a report by the National Bureau of Statistics, nine-tenths of Chinese families own their homes, compared with about two-thirds of Americans, indicative of how home ownership is culturally ingrained. (There's even a term in Chinese -- "fangnu" or "house slave" -- to describe people who remain at jobs just so they can continue to afford mortgage payments.)
Xu, who works as a cameraman for a news station, wants to buy a home, but isn't about to become a "fangnu." He and his fiancée, a paralegal, have accepted the idea of committing to a 20-year mortgage, but current housing prices require down payments that exceed their budget. "I and my fiancée are able to pay the mortgage, but we don't have the savings for the down payment. … We won't be able to buy an apartment without assistance from our parents." Luckily for Xu and his fiancée, both sets of parents are willing to chip in to help with their down payment.
They aren't the only ones in this position. "The majority of my peers are still living with their parents or living in an apartment their parents bought for them," Xu said. "Almost none of my peers can afford buying an apartment in Beijing on their own." Many of them have been working for three to four years, but still have to turn to their parents for financial help.
According to December 2014 data cited by the Global Times, residential properties in Beijing averaged $2,229 per square meter. A tiny 50-square-meter (538-square-foott) apartment would cost $111,000, a fortune in a city where university graduates make an average of $523 a month.
After roughly six months of searching, Xu and his fiancée still haven't found a place. "Most people nowadays will choose to live in the outskirts of Beijing for a better price," Xu said. As housing demand in Beijing increased in the mid-2000s, dozens of developers began building on the outskirts of the city, offering brand-new homes at more affordable prices in addition to cheaper rental options for young college graduates. But with the chaotic traffic and vast distances in Beijing, that's too far for Xu.
So he waits, lest he end up like a cousin who, he said, "bought two apartments on the border of Beijing and Hebei," far from the city center: "He can barely pay the mortgage every month and they're not even living in either apartment now, because they are too far away from the city."
The woes of Xu and his family are common among people who aren't extremely wealthy and want to buy a home. But the alternative, renting, is not much better.
Shen found her apartment in January, just a day before starting a new job at a media company. She had arrived in Beijing two weeks previously -- from the U.S., where she had completed her undergraduate degree at the University of Iowa -- and needed to find a place fast.
"I must have looked at more than 30 places over the past week and a half before settling on this one," Shen said. "I'm not even that picky, I just want a clean space that's near the subway line so that I can get to work easily."
Shen is one of four tenants living in the three-bedroom apartment in Beijing's Chongwenmen area. Cramped shares in rundown buildings are a common situation in Beijing, where many young people can't afford to rent on their own, and resort to seeking out single bedrooms through the help of a broker. Everyone she knows went through the same issues she did while apartment hunting, Shen said. "I have friends that I lived with last summer during my internship here in Beijing, it's all the same experience. The places are so old or so far away."
For her, Xu and China's young professionals, the "New Normal" touted by the government, and the lower housing prices implied by it, can't arrive fast enough. But it still seems so far away.
© Copyright IBTimes 2023. All rights reserved.